Gas Dilution Module adjusts concentrations up to 10,000:1.
Press Release Summary: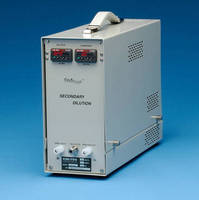 In FlexStream(TM) SD module, variable portion of primary gas mixture from 1 or more FlexStream(TM) permeation modules is split off and re-diluted with matrix gas to create lower concentration mixtures. FlexStream(TM) automatically adjusts split and dilution flows to create desired output. Combining adjustment range of FlexStream(TM) base permeation unit with that of SD gives total concentration adjustment range of 10,000:1 so that concentrations from 1 ppb to 10 ppm can be created using single tube.
---
Original Press Release:

FlexStream(TM) SD - Secondary Gas Dilution Module



Applications:

o Trace concentration (ppm, ppb, pptr) gas mixtures

KIN-TEK's new FlexStream(TM) SD is a gas dilution module designed to work with the FlexStream(TM) System. In the SD module, a variable portion of primary gas mixture from one or more FlexStream(TM) permeation modules is split off and re-diluted with matrix gas to create lower concentration mixtures. The FlexStream(TM) automatically adjusts split and dilution flows to create a desired output concentration. Combining the adjustment range of the standard FlexStream(TM) base permeation unit with that of the SD gives a total concentration adjustment range of 10,000:1 so that concentrations from 1ppb to 10ppm could be created using a single permeation tube.

The FlexStream(TM) controls mixture preparation using both primary dilution of the permeation module and secondary dilution of the SD Module. This combination allows extended calibration accuracy and linearization of flow measurements to provide exceptional overall accuracy.

Applications of the FlexStream(TM) SD include blending extremely low concentration (ppb & ppt) mixtures using moderate dilution flow, preparing wide dynamic (10,000:1, and optionally, even higher ratios), and preparing adjustable concentration mixtures while holding a fixed output flow.

For more information, please write or call: KIN-TEK Laboratories, Inc., 504 Laurel, La Marque, TX 77568, Phone: (409) 938-3627, Fax: (409) 938-3710, www.kin-tek.com,
email: [email protected]