Gap Filler Materials reduce stress on solder joints.
Press Release Summary: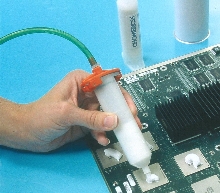 Form-in-place, fully cured, thermally conductive THERM-A-GAP® T630 and T630G provide conformable thermal path between hot components and heat spreaders. Dispensable T630 and T630G viscoelastic pastes achieve 50% deflection at 1 psi. T630G material contains added filler of 0.010 in. dia glass beads. Both gap fillers provide thermal conductivity of 0.7 W/m-K and are capable of filling gaps from 0.010 to over 0.300 in.
---
Original Press Release:
New Form-in-Place Thermal Gap Fillers Reduce Stress on Solder Joints and Leads

JULY 25, 2002, WOBURN, MASSACHUSETTS - Chomerics, a division of the Parker Hannifin Corporation, has introduced THERM-A-GAP® T630 and T630G form-in-place, fully cured, thermally conductive gap filler materials that provide a highly conformable thermal path between hot components and heat spreaders. These dispensable thermal gap fillers are designed to replace gap filling elastomeric pads that may over-stress component solder joints and leads, resulting in damage to printed circuit boards.

Both the T630 and T630G materials are form-in-place, viscoelastic pastes that are highly conformable at very low pressures. The materials achieve 50% deflection at only 1 psi of pressure. The T630G material contains an added filler of 0.010-inch diameter glass beads that provide a compression stop in applications where electrical isolation is required. Both the T630 and T630G gap fillers provide thermal conductivity of 0.7 W/m-K. They have low levels of extractable silicone and pass the Telcordia specification (GR78-CORE) for the telecommunications industry. Both materials are UL 94V-0 rated for flammability resistance.

THERM-A-GAP T630 and T630G thermally conductive materials are capable of filling gaps ranging in size from 0.010-in. to over 0.300-in. These gaps are often caused by loose or varying assembly tolerances in electronics systems. Typical applications include network and graphics boards, power supplies, and automotive electronics, such as telematics and entertainment devices. The material is ideal for rework and field repair because of its ease of use. No refrigeration is needed. Both of these one-part materials can be dispensed directly from syringes and tubes without premixing or curing. Standard material packaging is in 30 cc and 300 cc tubes. Prices start at less than $85 for a 300 cc tube of either material in high volumes.

Please send inquiries to:

John Hannafin

Marketing Manager

Chomerics, div. of Parker Hannifin

77 Dragon Court

Woburn, MA 01888

Tel: 781-939-4486

jhannafin@parker.com

Technical questions:

Sue McLane

Thermal Marketing Specialist

Chomerics, div. of Parker Hannifin

77 Dragon Court

Woburn, MA 01888

Tel: 781-939-4358

smclane@parker.com

Chomerics, a division of Parker Hannifin Corporation's Seal Group, provides a wide range of EMI Shielding and Thermal Management Materials and services to OEM electronics companies around the world in the Telecom, Information Technology, Power Conversion, Military and Automotive markets. Since 1961, Chomerics has been the primary force in the development of electrically conductive elastomers for use as extruded, molded and form-in-place EMI gaskets. Chomerics also offers an extensive family of thermal interface materials, which transfer heat from electronic components to heat sinks.

www.chomerics.com
More from Electrical Equipment & Systems