GaN on SiC HEMTs suit aerospace and defense applications.
Press Release Summary: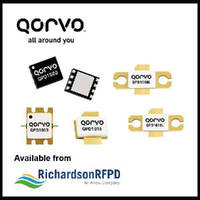 Housed in 5 x 6 mm SMT package, 15 W, 50 Ω-matched Qorvo QPD1000 operates from 30 MHz to 1.215 GHz, suitable for handheld radios, radar, and jammer systems. Internally matched, 500 W QPD1003 operates from 1.2–1.4 GHz and 50 V supply rail. Device is suited for military and civilian L-band radar applications. Supplied in air cavity packages, 125 W QPD1008L and 65 W QPD1015L are wideband unmatched discrete HEMTs that operate from DC–3.2 GHz and DC–3.7 GHz, respectively, and 50 V supply rail.
---
Original Press Release:
Richardson RFPD Introduces Four New GaN on SiC HEMTs from Qorvo
Designed for defense and aerospace applications

Geneva, Ill.: Richardson RFPD, Inc. announced today the availability and full design support capabilities for four new GaN on SiC high-electron-mobility transistors from Qorvo.

The QPD1000 is a 15 W (P3dB), 50Ω-input matched discrete GaN on SiC HEMT that operates from 30 MHz to 1.215 GHz. The integrated input matching network enables wideband gain and power performance, while the output can be matched on board to optimize power and efficiency for any region within the band. The CW- and pulse-capable device is housed in a 5 mm x 6 mm leadless SMT package that saves real estate of already space-constrained handheld radios. It is also suitable for radar and jammer systems.

The QPD1003 is a 500 W (P3dB) internally-matched discrete GaN on SiC HEMT that operates from 1.2 to 1.4 GHz and a 50 V supply rail. The device is GaN IMFET fully-matched to 50Ω in an industry-standard air cavity package and is ideally suited for military and civilian L-band radar applications. The device can support pulsed and linear operations.

The 125 W (P3dB) QPD1008L and 65 W (P3dB) QPD1015L are wideband unmatched discrete GaN on SiC HEMTs that operate from DC to 3.2 GHz and DC to 3.7 GHz, respectively, and a 50 V supply rail. The devices are in industry-standard air cavity packages and are suitable for military and civilian radar, land mobile and military radio communications, avionics, and test instrumentation. The devices can support pulsed, CW and linear operations. They are also available in flangeless packages (QPD1008 and QPD1015).

Evaluation boards for the new devices are available, as follows: QPD1000EVB1, QPD1000EVB2, QPD1003EVB, QPD1008EVB, QPD1015EVB, and QPD1015LEVB.

FOR DETAILS CONTACT
Mark Vitellaro
Director of Strategic Marketing
mvitellaro@richardsonrfpd.com
P 630 262 6800

According to Qorvo, additional key specifications of the new devices include:
Part No.Frequency
(GHz)Output Power (P3db)
(W)Linear Gain
(dB)Typical
PAE3dB
(%)Operating
Voltage
(V)PackageQPD1000.03–1.215241978.2285 x 6 mm SMTQPD10031.2–1.454019.966.750RF-565QPD1008L/QPD1008DC–3.216217.57250NI-360QPD1015L/QPD1015DC–3.770207450NI-360
 
To find more information or to purchase these products today online, please visit the QPD1000, QPD1003, QPD1008L / QPD1008, and QPD1015L / QPD1015 webpages. The devices are also available by calling 1-800-737-6937 (within North America); or please find your local sales engineer (worldwide) at Local Sales Support. To learn about additional products from Qorvo, please visit the Qorvo storefront webpage.

About Richardson RFPD
Richardson RFPD, an Arrow Electronics company, is a global leader in the RF and wireless communications, power conversion and renewable energy markets. It brings relationships with many of the industry's top radio frequency and power component suppliers. Whether it's designing components or engineering complete solutions, Richardson RFPD's worldwide design centers and technical sales team provide comprehensive support for customers' go-to-market strategy, from prototype to production.

More information is available online at www.richardsonrfpd.com.
Follow Richardson RFPD on Twitter at www.twitter.com/Richardson_RFPD.
To subscribe to Richardson RFPD's New Products e-newsletter, visit www.richardsonrfpd.com/subscribe. 
More from Computer Hardware & Peripherals