Fuseholders meet IP67 standards.
Press Release Summary: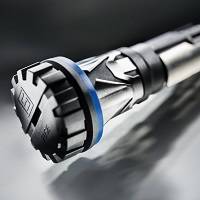 Available in FUS and FUL series, Fuseholders are made of halogen-free plastic. Accepting 5 x 20 mm or 6.3 x 32 mm fuses, units feature snap-in brackets for quick assembly. Meeting IEC and UL/CSA standards, FUS and FUL series are rated to 16 A @ 500 VAC and 32 A @ 600 VAC / VDC respectively. Product is used in chemical, marine and mining environments. Rated to 4 W / 16 A @ Ta 23°C, units can be operated in -40°C to +85°C temperature.
---
Original Press Release:
Sporty Fuseholder Adds Value for Quick Assembly – Designed for Rough Applications
SCHURTER's new FUS series shock-safe snap-in panel mount fuseholder is akin to the successful FUL series screw mount high performance fuseholder, designed with higher current/voltage ratings and an ingress degree of protection rating of IP67. The dust and water-proof fuseholders are the first to be especially suited for equipment used in rough environments.
The robust fuseholder families FUS and FUL are rated 16 A @ 500 VAC according to IEC and up to 32 A @ 600 VAC / VDC according to UL/CSA. Rated power acceptance is 4 W / 16 A @ Ta 23°C. Admissible Ambient Air Temperature -40°C to +85°C.
Made of halogen-free plastic, the new FUS has metal panel mount snap-in brackets that facilitate quick assembly; they also act as heat dissipaters during operation. An optional plastic insulation sleeve is available. Wires are terminated with quick-connect or solder connections. The newly styled fuse carriers accept 5 x 20 mm or 6.3 x 32 mm fuses, and provide slot or fingergrip removal of the carrier for fuse replacement.
The FUS and FUL series fuseholders can be used wherever applications are exposed to potentially adverse environmental influences, such as equipment exposed to outdoor weather, or equipment exposed to oil and chemical, marine, laboratory and mining environments. The fuseholders are also highly suitable for use in medical and food service or production equipment subject to cleaning.
The FUS and FUL series, and the extended family of pcb mount versions FUA and FUP, comply with the increased glow-wire material requirements outlined in the new IEC 60127-6 and IEC 60335-1 standards developed for unattended devices in use.
Pricing for the complete fuseholder and carrier set is $9.00 at 500 pieces. Packaging is 25 pieces per box. Data sheet and additional information are available at: fus.schurter.com. For sales and product information, contact Cora Umlauf at (800) 848-2600 or by email at info@schurterinc.com.
About SCHURTER Inc.
SCHURTER is a progressive innovator and manufacturer of Circuit Protection, Connectors, Switches, and EMC Products to the electronic and electrical industries worldwide. SCHURTER's three divisions: Components, Input Systems and Electronic Manufacturing services are formed to provide customer specific products and services, which focus on clean and safe supply of power and making equipment easier to use. These core competencies bring a high degree of innovation to SCHURTER's main markets IT / Telecom, Medical, Space and Energy.
SCHURTER meets its customers' highest demands through certified quality, environmental and safety management systems including ISO 9001, ISO14001, OHSAS 18001 and highly developed processes (Six Sigma method). Excellent services are up held through the consistent application of an all - encompassing quality management system.
SCHURTER Inc., Santa Rosa, California is the exclusive North America sales and distribution office for the SCHURTER Group.
Spencer Lane
SCHURTER INC.
447 Aviation Boulevard
Santa Rosa, CA 95403
Telephone 707 636 3000
Facsimile 707 636 3033
Contact This Company Download Spec Sheet
More from Controls & Controllers