Fujitsu Adds High-Capacity Option to its Industry Standard FTR-K1 Power Relay Series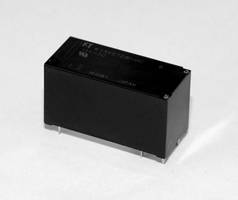 San Jose, CA - December 08, 2016 - Fujitsu Components America, Inc. has enhanced its FTR-K1 power relay series by offering engineers a high-capacity version with an industry standard footprint.
The FTR-K1-HC relay has a resistive rating of 20A at 277VAC (+85°C) on the normally open contacts in a footprint measuring 29mm x 15.7mm x 12mm. It features Class F coil insulation and a typical electrical life of 100,000 operations, making it suitable for appliance applications such as oven controls, electric heating and air conditioners; smart home automation controls; and industrial control applications such as furnaces and power supplies.
The relay's power consumption is 400mW for the 5-, 6-, 12-, and 18VDC coils. It is RoHS compliant and conforms to UL 508 safety and UL 94-VO flammability standards.
Fujitsu's FTR-K1 relay series features dielectric withstanding voltage of 1,000VAC (50/60hz) 1 minute between open contacts, 5,000 VAC (50/60hz) 1 minute between coil and contacts, and 10,000v (1.2 x 50µs).Available immediately, pricing for a FTR-K1-HC begins at $4.28 in quantities up to 99 pieces.
Company Information Fujitsu Components America, Inc. markets and distributes electronic and system components and sub-systems throughout North and South America. Products include relays, connectors, input and pointing devices, touch panels, thermal printers, and wireless modules. The company is headquartered at 2290 North First Street, Suite 212, San Jose, CA 95131. For product information, contact FCAI via telephone at 1-800-380-0059 or by email at components@us.fujitsu.com.
For more information, please see: us.fujitsu.com/components
Media Contact:
Mary Jo Carlone
414 425-6164
MJC Communications
More from Architectural & Civil Engineering Products