Front-Mount Inserts speed assembly of rackmount components.
Press Release Summary: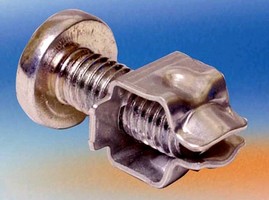 Assembling into front of frame, MonoSert(TM) and DuoSert(TM) DM Inserts are interchangeable for reconfiguring components in field, and are sized to fit 9.5 mm square holes used in IT rackmount frames. MonoSert consists of spring steel receptacle and hardened steel screw that press-fits into frames and panels up to 0.177 in. thick. For panels 0.04-0.055 in. thick, DuoSert features die-cast nut inside stainless steel cage that fits into square rack hole and is rotated to lock insert into place.
---
Original Press Release:

Front-Mount Inserts Speed Assembly and Interchange Of Components



IN RACK AND ENCLOSURE INSTALLATIONS

Concordville, PA, August 22, 2006-Two new front-mounted styles of Southco inserts provide faster, more convenient and more cost-efficient alternatives to traditional rack mounting fasteners for fastening components, sub-racks and thin-sheet panels in rack and enclosure assemblies. In addition to offering quicker assembly time for equipment manufacturers in networking, telecom, computer, and electronics enclosures or other industrial equipment installations, they can also simplify component interchangeability in the field.

Both the Southco® MonoSert(TM) and DuoSert(TM) DM inserts assemble into the front of the frame, so they are easy to install even in tubular frames and crowded rack assemblies. Both types can be installed and removed without special tools, and are easily interchangeable for reconfiguring equipment components in the field. The standard offering is sized to fit industry-standard 9.5 mm square holes used in typical IT rack-mount frames. Modifications can also be ordered to fit other industry-standard rack sizes.

The Southco MonoSert DM insert, suitable for light- and medium-duty applications, features a spring steel receptacle plus a hardened steel screw that is designed to press-fit into frames and panels up to 4.5 mm (0.177") thick. During installation the screw expands the receptacle to clamp panels together. When installed, the MonoSert will withstand an average ultimate torque of 3Nm (26.6 in/lbf). The Southco DuoSert features a die-cast nut nestled inside a stainless steel cage that fits into the square rack hole and is rotated to lock the insert into place. The DuoSert is designed for thinner panels-ranging from 1 to 1.4 mm (0.04" to 0.055") thick and when installed, will resist an average ultimate torque of 15Nm (132.8 in/lbf). Both styles are fully RoHS compliant.

Once installed in a frame or panel, each insert accepts an M6 machine screw used to anchor components, patch panels or blind panels to the frame-mounted insert. Each insert is designed to prevent itself from turning, so that components can be installed and removed without requiring access to the back of the frame or panel.

Both designs provide shock-resistant and vibration-resistant performance. And while both designs are retained in their mounted position within the frame or panel when components are initially disconnected, the inserts can also easily be removed, repositioned and reused if desired.

For more information, visit Southco's website at southco.com; e-mail their 24/7 customer service department at info@southco.com; call 610-459-4000; or fax to 610-459-4012.

Southco is a leading global provider of engineered access solutions, including latches, locks, captive fasteners, hinges, handles, and other accessories for applications in the marine, networking, telecommunications, computer, automotive, aerospace, mass transit, off-highway/construction, RV/caravan, industrial machinery and HVAC industries.

Southco is strongly focused on customized engineering solutions and global support for its key customers. The company aspires to be a virtual engineering center for its customers' engineered-access solutions and is committed to providing outstanding quality and overall satisfaction. Southco's promise to its customers is to connect, create and innovate to provide the best solution for every access engineering problem.

SOUTHCO CONTACT: Dale Clouser
610-361-6551
dclouser@southco.com

More from Materials