Frame Grabber supports frame rates up to 8,000 frames/sec.
Press Release Summary: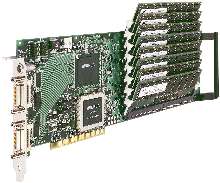 PIXCI® CL3SD captures 1280 x 1024 image sequences at 500 frames/sec. It connects to Basler A504K camera and provides exposure control and serial camera configuration. Unit allows capture of image sequences at camera's max data rate of 625 megabytes/sec. Up to 4 gigabytes of onboard memory allows for analysis of high speed events. Trigger input can start or stop capture. Software provides image processing and analysis, and image sequence transfer to disk.
---
Original Press Release:

PIXCI CL3SD(TM) A504 Frame Grabber


Buffalo Grove, Illinois - EPIX®, Inc., announces the PIXCI® CL3SD Frame Grabber which captures 1280 x 1024 image sequences at 500 frames per second.

The PIXCI CL3SD connects to a Basler A504K camera and provides exposure control and serial camera configuration. The PIXCI CL3SD allows capture of image sequences at the camera's maximum data rate of 625 megabytes per second (faster than a 64 bit, 66 MHz PCI). Up to 4 gigabytes of on board memory allows capture of image sequences for analysis of high speed, high resolution events. Frame rates up to 8,000 frames per second are supported.

The PIXCI CL3SD trigger input can start or stop image sequence capture. EPIX' XCAP software provides camera control menus, image processing and analysis, and image sequence transfer to disk. XCAP controls camera windowing for higher speed capture at lower resolution. The PIXCI CL3SD with 1 gigabyte of image memory is priced at $6,995.

PRODUCT INFORMATION
Charles Dijak
EPIX, Inc.
381 Lexington Drive
Buffalo Grove, IL 60089
Tel: 847.465.1818
Fax: 847.465.1919
cad@epixinc.com
www.epixinc.com

PRESS INFORMATION
Bonnie Mascari
EPIX, Inc.
381 Lexington Drive
Buffalo Grove, IL 60089
Tel: 847.465.1818
Fax: 847.465.1919
bjm@epixinc.com
www.epixinc.com

More from Mechanical Power Transmission