FPGA Evaluation Kit enables small form factor designs.
Press Release Summary: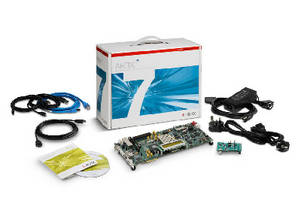 Equipped with All Programmable Artix-7 200T device, Artix™-7 FPGA AC701 Evaluation Kit has IP and reference design tools needed to accelerate design cycle. Artix-7 FPGA, featuring analog mixed signal, DDR3, DSP resources, parallel and serial I/O, provides optimal performance for low-end remote radio head, mobile backhaul, software defined radio, and motor control applications. Kit also includes device locked license for Xilinx's Vivado™ Design Suite, Design Edition.
---
Original Press Release:

Xilinx Accelerates Design Productivity for High Volume Applications



Artix-7 FPGA AC701 Evaluation Kit now available for designs requiring increased system performance, small form factor and lowest total power



SAN JOSE, Calif., --Xilinx, Inc. (NASDAQ: XLNX) today announced the availability of the Artix(TM)-7 FPGA AC701 Evaluation Kit for developing high-performance systems that target applications requiring both low cost and low power. Equipped with an All Programmable Artix-7 200T device, the new evaluation kit has the tools, IP and reference designs needed for designers to jump start their design cycle while leveraging the industry's leading system performance per watt FPGA.



All Programmable Artix-7 FPGAs offer power efficiency, compactness and low cost, as well as increased system performance for applications such as low-end remote radio head,  mobile backhaul, software defined radio, motor control and a broad range of other applications requiring high performance and a small footprint. With Analog Mixed Signal (AMS), DDR3, DSP resources, parallel and serial I/O and other system-level capabilities, Artix-7 FPGAs are an excellent choice for designers looking to reduce their BOM costs through programmable system integration.



The evaluation kit includes a device locked license for Xilinx's Vivado(TM) Design Suite, Design Edition, the industry's first SoC strength design environment.  This evaluation kit offers more than ten reference designs including a powerful PCIe® and DDR3 subsystem with an IP license for the full version of Northwest Logic's DMA Back-End Core for use in customer designs. The AMS 101 evaluation card paired with the AMS reference design -are the perfect vehicle to evaluate how to use AMS to reduce BOM costs for everything from simple system monitoring to more complex analog functions.



Availability

The Artix-7 FPGA AC701 Evaluation Kit is priced at $1,295 and open for order entry at www.xilinx.com/ac701.  



About Xilinx

Xilinx is the world's leading provider of All Programmable FPGAs, SoCs and 3D ICs. These industry-leading devices are coupled with a next-generation design environment and IP to serve a broad range of customer needs, from programmable logic to programmable systems integration. For more information, visit www.xilinx.com.



Xilinx, the Xilinx logo, Artix, ISE, Kintex, Spartan, Virtex, Zynq, Vivado and other designated brands included herein are trademarks of Xilinx in the United States and other countries. PCI, PCIe and PCI Express are trademarks of PCI-SIG and used under license. All other trademarks are the property of their respective owners.



Xilinx

Silvia E. Gianelli

(408) 626-4328

silvia.gianelli@xilinx.com

More from Laboratory and Research Supplies and Equipment