FPGA and SoC Devices comply with military temperature specs.
Press Release Summary: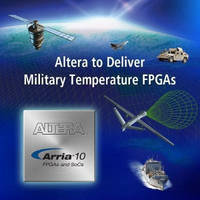 Qualified for extreme temperature environments from -55 to 125°C ambient, 20 nm Arria® 10 FPGAs and SoCs feature integrated, hardened IEEE 754-compliant, floating-point operators with 1,500 GFLOPS of DSP performance. Macros are useful for many military and aerospace applications, from real-time tactical uses to wide-view satellite survey platforms. They also enable precise designs in ground-based and airborne phased-array radar and directional antenna applications.
---
Original Press Release:

Full Compliance with Military Temperature Specification Planned for Altera 20 nm FPGA and SoC Devices



Mil Temp-Qualified Arria 10 FPGAs and SoCs Allow Military Customers to Make Early Specification Decisions in Designing Avionics, Radar and other High Reliability Applications



SAN JOSE, Calif., – Altera Corporation (NASDAQ: ALTR) today announced military temperature (Mil Temp) qualification plans for its newest 20 nm Arria® 10 FPGAs and SoCs, which will be qualified for extreme temperature environments (-55C to 125C ambient). In addition to the ratings, Altera can provide guidelines on speed grades, protocols, and external memory interfaces best suited to specific applications. All devices will be characterized, qualified and tested by Altera, providing reduced and reliable lead times. Customers can receive notifications, access ratings, and the Military Temperature brochure by setting up an account through the myAltera Military Portal.



"Altera is committed to supporting military customers by ensuring Mil Temp variants of our next-generation products are available," said David Gamba, senior director of the Military, Aerospace and Government Business Unit at Altera. "Though not all defense applications operate in the extremes of the Mil Temp range, early notification of these qualification plans allows customers to make valuable platform design decisions now that allow for cost-effective variants and easier design migration later."



Arria 10 Features Hard Floating Point DSP Blocks

Altera's Arria 10 FPGA and SoC devices are the only FPGAs in the industry to feature integrated, hardened IEEE 754-compliant, floating-point operators, which deliver the industry's highest GFLOPS per Watt performance compared to other hard floating point solutions on the market. The hard floating point DSP blocks featured in Arria 10 devices facilitate native floating point support, thereby reducing development time by 6 to 12 months. These macros are useful for many military and aerospace applications, from real-time tactical uses to wide-view satellite survey platforms. They also enable precise designs in ground-based and airborne phased-array radar and directional antenna applications.



Arria 10 SoCs are also the industry's only 20 nm devices with integrated ARM processors.



Altera Offers a Broad Range of Programmable Logic Solutions

Altera programmable logic technologies enable systems designers to use FPGAs, SoCs, IP, and design tools for applications in the industrial, surveillance, automotive, military, broadcasting and consumer sectors. Altera FPGAs and SoCs provide a parallel architecture aids in the acceleration of processing algorithms, while the Altera SDK for OpenCL design tool offers easy implementations of parallel processing applications onto FPGAs.



To learn more about Altera Stratix and Arria 10 military temperature devices visit http://www.altera.com/devices/common/military/mil-temp.html.



About Altera

Altera® programmable solutions enable designers of electronic systems to rapidly and cost effectively innovate, differentiate and win in their markets. Altera offers FPGAs, SoCs, CPLDs, ASICs and complementary technologies, such as power management, to provide high-value solutions to customers worldwide. Visit www.Altera.com



ALTERA, ARRIA, CYCLONE, ENPIRION, MAX, MEGACORE, NIOS, QUARTUS and STRATIX words and logos are trademarks of Altera Corporation and registered in the U.S. Patent and Trademark Office and in other countries. All other words and logos identified as trademarks or service marks are the property of their respective holders as described at www.altera.com/legal.



Editor Contact:

Karin Taylor

Altera Corporation

(408) 544-8207

newsroom@altera.com



Web Site: http://www.altera.com







More from Fluid & Gas Flow Equipment