Former Strip Mall is Transformed into Central Courts Facility with CENTRIA Panels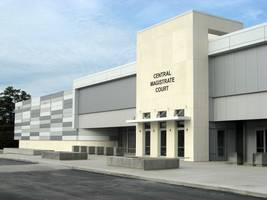 The Richland County Decker Center façade features Formawall® and Versawall®
Moon Township, PA…CENTRIA products were integral to the Richland County Decker Center's transformation from a big box mall to central courts facility and sheriff's headquarters. Formawall® and Versawall® insulated metal panels were selected to overcome the unique architectural challenges associated with this kind of a façade and structure, located in South Carolina, which was originally comprised of many small stores and a Kroger® supermarket.
Architects involved with the project from Boudreaux, the firm responsible for the building's design, specified CENTRIA's metal panels to create a seamless façade for a police station, the municipal court, the traffic court, the Sheriff's regional headquarters and, most importantly, the magistrate court, which was to be relocated from a less desirable downtown area.
"Visually, the building needed to be unified, while eliminating any semblance of its former purpose. We achieved this by blending the metal panels in an artful way, allowing the building's exterior aesthetic to act as a metaphor for the multicultural area in which it is situated," says Justin Lucas, Senior Project Architect with Boudreaux. "To add character to the facility, we aimed to break down the scale and have it become a true piece of architecture. This was achieved with the CENTRIA products we used, which allowed to us to create an almost musical rhythm and to add a chameleon-like quality to the building."
Dedicated on September 29, 2017, the Decker Center encompasses slightly more than 112,000 square feet. Formawall panels in an Off White color with a smooth finish were contrasted with Formawall panels in Chromium Gray across the main building façade.
"The panels formed a very specific pattern which was achieved with different shades and colors. CENTRIA's selection of standard finishes satisfied our needs," says Lucas. "We were very pleased. Additionally, the panels were installed quickly. Once they arrived, the envelope was added to the building faster than we expected."
Versawall embossed commercial/industrial insulated metal panels in Silver with a metallic Sundance AM coating were used around the rear of the building.
Lucas adds, "Versawall was at a very appealing price point: It was a nice surprise to remain on budget with this volume of panels. It also has the sharp look we were hoping for with its continuous grey tone."
The general contractor on the project was H.G Reynolds, while the CENTRIA Installer and Dealer was SECO Architectural Systems, Inc. The building itself was completed in January 2017.
ABOUT CENTRIA
CENTRIA innovations in architectural metal wall and roof systems are helping building teams around the world envision metal as the future of the building envelope. From inspiration through installation, CENTRIA provides the highest level of expertise including service and support from an elite Dealer Network. Based in Pittsburgh (Moon Township, Pa.), our metal architectural systems are the perfect combination of science and aesthetics, offering advanced thermal and moisture protection technology, the broadest spectrum of design options, truly integrated components, and superior sustainability. CENTRIA is an NCI Building Systems (NYSE:NCS) company. Visit us at www.centria.com.
YouTube: https://www.youtube.com/channel/UCexRyuC8RVRlT1kw-TY8upQ
Facebook: https://www.facebook.com/CENTRIAperformance/
Twitter: http://twitter.com/CENTRIA
Instagram: https://www.instagram.com/centriaperformance/
LinkedIn: https://www.linkedin.com/company/centria/
Contact: Nick Murosky, LarsonO'Brien Marketing Group
Email: nick.murosky@larsonobrien.com Phone: 412-831-1959 x123
More from Architectural & Civil Engineering Products