Formed-In-Place Gaskets are silicone-free.
Press Release Summary: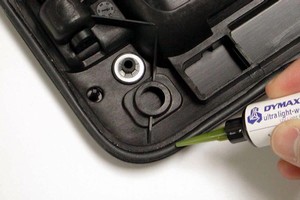 Curing completely in seconds upon exposure to UV light, FIP gasket GA-108 cures to black appearance on black parts to hide gasket seam. It adheres to Nylon® and many metals, making it usable for appliance and automotive assemblies. Designed for use from -60 to 150°C and curable on conveyorized assembly lines at 1-2 ft/min, GA-108 is suitable for in-line use in facilities that paint or electroplate parts.
---
Original Press Release:

New Highly Compressible UV Form-In-Place Gasket



DYMAX Corporation introduces GA-108, a highly compressible (00-30) FIP gasket that solves a number of quality and processing concerns confronting gasket users. Major benefits include better seals (often with less material), complete cure in seconds and the elimination of silicone contamination issues.

Curing completely in seconds upon exposure to UV light, this FIP gasket allows instant part assembly. GA-108 cures to a black appearance on black parts and hides the gasket seam. It has good adhesion to Nylon® and many metals, making it ideal for many appliance and automotive assemblies.

GA-108 is too soft to measure on the A-shore durometer scale. Its compressibility allows the use of less resin without sacrificing part fit, a feature not available with more rigid gaskets. This softness also reduces the force or pressure needed to close the assembly and to maintain the seal. GA-108 provides excellent seals for fragile as well as robust housings. It is designed for use from -60 to 150°C.

GA-108 cures completely upon exposure to UV light. No other curing mechanisms are involved. Instant cure eliminates the space, labor, material, and inventory costs associated with racking and stacking large numbers of in-process parts. Simply expose the gasket to UV light, let it cool and then package or assemble the part.

GA-108 is well suited for high speed automated assembly. The gasket can be UV cured with high intensity lamps on conveyorized assembly lines at 1-2 feet per minute.

Since GA-108 contains no silicone, it eliminates worries about silicone contamination and is ideally suited for in-line use in facilities that paint or electroplate parts. GA-108 can also be used to seal electronic assemblies without worrying about corrosive by-products generated from some silicones. Since GA-108 does not moisture cure, humidity control is unnecessary for cure, and humidity induced clogging of dispense lines is eliminated.

DYMAX Corporation is a technology-based company specializing in the formulation, manufacture and service of advanced assembly adhesives, coatings, gaskets and curing systems. Call our knowledgeable technical service staff for help with choosing the correct UV curing lamps and adhesives for your application.

For more information, contact DYMAX Corporation, 51 Greenwoods Road, Torrington, CT 06790; Phone: 860-482-1010; Fax: 860-496-0608; Toll Free: 1-877-DYMAX-UV (1-877-396-2988); e-mail: info@dymax.com, or visit our website at http://www.dymax.com/products/fip_gaskets/index.php


More from Material Processing