Floor Tile Pullers facilitate repeated lifting tasks.
Press Release Summary: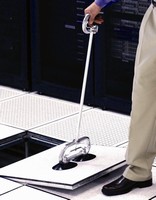 Offered in 3 sized to accommodate different statures, Verti-Lifters(TM) let users stand while lifting access floor panels from raised flooring. Portable hand tools are constructed with 3¼-4¼ lb vertical steel tubular body connected to handle and finger trigger release mechanism. Dual 4 or 5 in. dia vacuum cup models are available, also suited for use in manufacturing when lifting and moving smooth sheet metal, glass, or plastic sheets stacked on/near floor.
---
Original Press Release:

Premier Line of Standup Raised Floor Tile Pullers



A new line of floor tile pullers, which are designed to allow users to stand while lifting access floor panels from raised flooring rather than having to bend over or kneel down, is being introduced by All-Vac Industries, Inc. of Skokie, Illinois.

All-Vac Verti-Lifters(TM) are heavy duty StandUp Floor Tile Pullers(TM) that utilize the same lifting structure as the company's best selling Double Cup Vacu-Lifters. All-Vac has attached a lightweight vertical steel tubular body to the Vacu-Lifter, which then connects to a comfortable handle and finger trigger release mechanism. The result is a lightweight and portable hand tool designed to make repeated lifting of raised floor tile panels easier and safer. Other applications include manufacturing where users are lifting and moving smooth sheet metal, glass or plastic sheets stacked on or near the floor.

The Verti-Lifters were engineered with the assistance of an Ergonomist to maximize the efficiency of lifting raised floor panels while providing users with a comfortable hand tool. Accordingly, there are three sizes available as shown in the cart below:

User's  Overall  Dual 4" Cup  Dual 5" Cup

Height  Length   Model Number  Model Number

Over 6'2"  37" Length  A6550-37   A6555-37	

6'2" to 5'9" 33" Length  A6550-33   A6555-33

Under 5'9" 27" Length  A6550-27   A6555-27

For most raised floor tiles, All-Vac recommends using the Double 5" Cup Models because of the increased stability and strength over the Double 4" Models.

The Verti-Lifters and other raised flooring tools can now be purchased online at All-Vac's new ecommerce website www.raisedfloortools.com.

Verti-Lifter specifications include the following:

a. Three overall heights approximately, 37", 33", and 27".
b. Available with either dual 4" or 5" diameter vacuum cup.
c. Vacuum cups molded in oil resistant black rubber or heat resistant silicone.
d. Easy to use fingertip trigger release.
e. Storable on All-Vac's Wall Bracket Vacu-Lifter Holder.
f. Weights ranging from only 3-1/4" lbs to 4-1/4" lbs each.

For more information and pricing, please contact:

All-Vac Industries,
7350 N. Central Park Avenue
Skokie, Illinois 60076 USA

Maureen Rottinger, Customer Service Manager
Phone: 847-675-2290
Fax: 847-675-1114
www.allvacindustries.com
e-mail: contact@allvacindustries.com

More from Adhesives & Sealants