Floating-Roof Storage Tanks Need Heavy-Duty Protection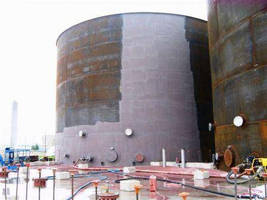 Since their development in the 1920s, floating-roof storage tanks have become widely used for storing petroleum products at major refineries, fuel terminals, bio-fuel facilities and chemical plants. As the name implies, floating roofs rise and fall with the level of the fuel or crude being stored in order to reduce evaporation that occurs under normal storage and handling conditions.

Typically uninsulated, these tanks are of all-steel construction, designed to store low vapor pressure bulk liquids. Common design consists primarily of a rigid welded tank floor and sidewalls supported on a concrete pad. The design incorporates a one- or two-piece floating roof on tracks fitted with a heavy elastomeric (rubber) skirt.

"The roof and skirt are designed to travel (float) as the volume inside the tank fluctuates," according to Gary Zinn, sales director, Industrial Markets for Tnemec. "This minimizes the volatile vapor space above the liquid and reduces volatile emissions to the atmosphere. In essence, the underside of the roof rests directly on the liquid, or is cushioned by a small vapor layer just above the liquid."

The capacity of floating-roof tanks is limited by design and ranges from 10,000 barrels to 150,000+ barrels (6+ million gallons), and these tanks are generally used for storage of sour crude and gasoline blend stocks. In some cases, finished gasoline is stored in floating-roof tanks prior to blending. Other common design features include sidewall pipeline manifolds, ladders, vents and rim-mounted fire suppression systems.

Over the years, the floating-roof designs have become more complex with the introduction of improved rim seals and drain systems, bleeder vents, double decking and steel annular pontoons. Design considerations are typically based on the type of product stored, product temperature, viscosity, weather, operating requirements and environmental conditions. These same influences are critical when selecting protective coatings and linings for use in floating roof tank applications.

Extremely corrosive conditions exist on top of floating roofs, with sidewalls subject to petroleum spills and localized atmospheric corrosion. "No design has yet solved the persistent problem of rain water accumulation and ponding on top of the roof," Zinn observed. "This water combines with industrial and cooling tower fallout and escaped hydrocarbon vapor solutions which attack the substrate. In addition to ultraviolet (UV) light degradation, roof and sidewall coatings are often subject to elevated temperatures for crude and distillate storage of 120-140 F. It is easy to see that all exterior surfaces of floating-roof tanks should be regularly maintained."

Exterior steel on floating roofs is also subjected to salt-fog conditions found in coastal environments. "It's estimated that in Louisiana's coastal environment, approximately 1.0 mil of protective coating material can be lost each year to erosion," Zinn reported. "So a dry film thickness of 20 mils is recommended to achieve a projected 20-year life cycle with proper maintenance."

"In meeting specification requirements of major oil companies and fuel jobbers, coating systems for floating-roof storage tanks must meet a range of performance criteria," Zinn explained. "Among these performance criteria are rapid return to service, one-coat application, fast-cure, high-build capabilities, ease of application and physical properties for long-term durability."

When used in conjunction with high-performance epoxies, zinc-rich primer coating systems provide both barrier-type and sacrificial protection of properly prepared floating-roof substrates. Tnemec offers an advanced technology, single-component, moisture-cured aromatic zinc-rich primer, Series 90G-1K97 Tneme-Zinc, that offers extraordinary performance. When shop-applied, the durability of Tneme-Zinc allows contractors to complete mechanical work on the floating roof without hurting the primer.

Tnemec offers several exterior finish coat options for floating roofs, including an advanced generation high-solids water-reducible epoxy, Series 27WB Typoxy, which offers fast cure for rapid handling capabilities, one-coat application for quick return to service and excellent resistance to yellowing. Series 27WB is an all-purpose industrial maintenance epoxy primer and intermediate coating which is thinned with potable water for ease of application. It offers 100 percent solids by volume, is virtually odor free and volatile organic compound (VOC) compliant. "Using this combination, total film thickness on the roof is approximately 20 mils," Zinn noted.

The interior walls and floor areas are exposed to varying degrees of corrosion, from storage of sour crude (sulfur and salt laden), and higher vapor pressure volatile liquids. "In the past, some engineers did not coat the interior surfaces with the belief that residues and a thin film of corrosion inhibiting petroleum will protect the surface from corrosion," Zinn said. "This was proven not to be the case, even in those areas continually in contact with oil, because of the extremely corrosive nature of dissolved oxygen, hydrogen sulfide and naphthenic acids in some crude."

A design feature which greatly increases corrosion of interior surfaces is the freeboard area of the walls exposed by movement of the roof. This zone may be alternately immersed in the product, physically abraded by the moving skirt, and exposed to the atmosphere as levels in the tank fluctuate. "It is prudent to upgrade interior areas when maintenance pulldowns permit because inspection intervals can be between 10 to 25 years," Zinn added.

For immersion service on floating roof tanks, Tnemec's Tank Armor linings offer several thick-film, 100 percent solids epoxies with resistance to a wide range of petroleum products, fuels, gasohol, solvents and organic and inorganic acids. This selection of linings includes a trowel-grade polysulfide/novolac epoxy polymer filler compound used in chime areas and to fill cracks and crevices caused by chemical attack and environmental degradation.

More from Packaging Products & Equipment