Flexible Adhesive/Sealant meets USP Class VI requirements.
Press Release Summary: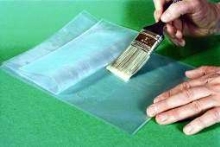 Optically clear, UV-curable UV15X-6 polymer system adheres to various substrates, including plastics and elastomers. Suited for medical device assemblies, single-component urethane formulation is 100% reactive, does not contain any volatiles, and also acts as electrical insulator. Cure is not affected by air or moisture, and cured material exhibits abrasion resistance. Bonds resist exposure to water and other solvents.
---
Original Press Release:

Flexible Optically Clear UV15X-6 Adhesive/Sealant Meets USP Class VI Requirements!


Master Bond Polymer System UV15X-6 is an optically clear, flexible UV curable adhesive/sealant which fully qualifies to the USP class VI protocol. UV15X-6 is a single component special urethane formulation which is 100% reactive and does not contain any volatiles. This compound features cure on demand "when exposed to UV light". Cure is not affected by air or moisture. The cured material exhibits high physical strength, excellent elongation properties and surprisingly high abrasive resistance.

The Master Bond UV15X-6 features outstanding adhesion to many substrates including a wide range of plastics and elastomers. The optical clarity of the cured bonds is most desirable for bonding to clear plastics such as polycarbonates and acrylic resins. UV15X-6 bonds have superior resistance to exposure in water and many other solvents. They are very good electrical insulators. Their desirable balance of performance properties makes them prime candidates for medical device assemblies.

For further information, please contact our Technical Support Department.

USA & Canada
Phone: 201-343-8983
Fax: 201-343-2132
E-mail: technical@masterbond.com

Asia, Central and South America Western U.S and Western Canada
Phone: 818-793-5605
Fax: 201-696-9031
Email: catech@masterbond.com

Eastern and Western Europe and Africa
Phone:+44-207-039-0034
Fax: +44-207-060-0628
E-mail: eutech@masterbond.com

Middle East
Phone: 972-2-652-8384
Fax: 972-2-652-8402
E-mail: meda@masterbond.com

More from Adhesives & Sealants