Flaw Detector uses corrosion inspection software.
Press Release Summary: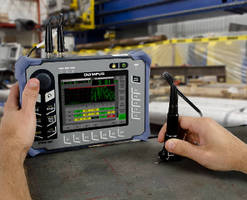 Available with portable EPOCH 600 Ultrasonic Flaw Detector, Corrosion Module includes automatic ultrasonic setups based on transducer selection, Automatic Gain Control, thickness gage measurement algorithm, V-Path correction, and transducer wear compensation using automatic zero function. Module also features corrosion-style data logger file types, color-coded Grid View, and timed B-scan view for fast data collection and consolidated reporting of areas of interest.
---
Original Press Release:

A New Corrosion Module Software Available with the EPOCH 600 Ultrasonic Flaw Detector



Provides Simplified Operation in Corrosion Inspection Applications.



Olympus, a world leader in nondestructive testing technologies, is pleased to introduce the new Corrosion Module software that is now available with the portable EPOCH 600 Ultrasonic Flaw Detector. The Corrosion Module is designed for the growing population of inspectors that require both flaw detection and corrosion measurement solutions as standard application offerings.  This optional software provides simplified instrument operation for basic corrosion applications, requiring less set up time and more efficient data collection. 



The EPOCH 600 Corrosion Module leverages many of the industry-leading corrosion inspection features revolutionized by dedicated corrosion thickness gages, such as the Olympus 38DL PLUS, while maintaining a close connection to standard flaw detector operation.  This combination significantly lessens the requirement for operator training and enhances the versatility of the already popular EPOCH 600 instrument. 



Main features of the Corrosion Module include automatic ultrasonic setups based on transducer selection, Automatic Gain Control (AGC), Olympus thickness gage measurement algorithm, V-Path correction, and transducer wear compensation using an automatic zero function ("Do Zero").  The Corrosion Module also features corrosion-style data logger file types, a color-coded Grid View, and a timed B-scan view for fast data collection and consolidated reporting of areas of interest.



With the addition of the Corrosion Module software, the EPOCH 600 now combines industry-leading conventional ultrasonic flaw detection capabilities with simple-to-use thickness measurements to determine metal wall loss due to corrosion or erosion. This combination makes the successful EPOCH 600 a powerful and cost-effective flaw detector for a large variety of nondestructive testing applications.



About Olympus

Olympus Corporation is an international company operating in industrial, medical, and consumer markets, specializing in optics, electronics, and precision engineering. For the industrial professional, Olympus is a world-leading manufacturer of innovative test and measurement solutions that are used in industrial and research applications ranging from aerospace, power generation, petrochemical, civil infrastructure, and automotive to consumer products. Leading-edge testing technologies include ultrasound, phased array, eddy current, remote visual, high-speed video, microscopy, optical metrology, X-ray fluorescence, and X-ray diffraction. Its products include flaw detectors, thickness gages, videoscopes, microscopes, analytical analyzers, industrial scanners and probes, and various accessories.



Our goal is to supply reliable, economical systems globally that enhance safety, security, quality and productivity for customers and that contribute to society. We are committed to actively pursuing the development of new technologies, products, and services that offer the best solutions to customers' needs. Our commitment to designing quality products is directly linked to our customers' responsibility to comply with the highest industry standards and regulations in order to ensure public safety.



For more information please contact:

Meindert Anderson

Corporate Director, Marketing Communications

(1) 781-419-3562

meindert.anderson@olympusNDT.com

Web: www.olympus-ims.com



More from Electrical Equipment & Systems