Flaw Detector offers portability and affordability.
Press Release Summary: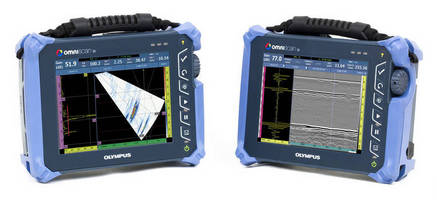 Equipped with 8.4 in. touchscreen for displaying software interface, OmniScan® SX flaw detectors provide solution for linear zero-degree inspections, such as corrosion mapping and composite inspection, as well as weld inspection using one phased array group or one TOFD channel. Model SX PA is 16:64PR phased array unit, which is equipped with UT channel for pulse-echo, pitch-catch, or time-of-flight diffraction (TOFD) inspection techniques.
---
Original Press Release:

Olympus Introduces the Lightweight OmniScan SX Flaw Detector that Offers Portability and Affordability



Olympus, a pioneer in industrial phased array instrumentation, is pleased to introduce the newest member of the OmniScan® family of flaw detectors, the OmniScan SX. It features an easy-to-read 8.4" touch screen for displaying its user-friendly and streamlined software interface. The single group OmniScan SX provides a cost-effective solution for linear zero-degree inspections, such as corrosion mapping and composite inspection, as well as weld inspection using one phased array group or one TOFD channel.  Compared to its successful predecessor, the OmniScan MX2, the OmniScan SX is 33% lighter and 50% smaller—offering an unprecedented level of portability for an OmniScan.



The OmniScan SX comes in two models: the SX PA and SX UT. The SX PA is a 16:64PR phased array unit, which, like the UT-only SX UT, is equipped with a conventional UT channel for pulse-echo, pitch-catch or time-of-flight diffraction (TOFD) inspection techniques.



The OmniScan SX touch screen offers a full-screen mode option that maximizes visibility, essentially converting many menu functions into easy touch-screen operations.  The intuitive interface provides smooth menu selection, zooming, gate adjustments, cursor movements, and text and value input. These, along with other premium integrated features, including easy-to-follow setup and calibration Wizards, a rapid refresh rate for both the S-scan and A-scan displays, and a fast pulse repetition frequency (PRF), make the OmniScan SX a highly efficient inspection tool.



The OmniScan SX is fully compatible with the extensive portfolio of Olympus scanners, probes and accessories, as well as with its dedicated software companions, NDT SetupBuilder and OmniPC. Combined, the complete family of software and hardware contributes to a streamlined and efficient inspection workflow, from design and setup to acquisition and analysis.



The NDT SetupBuilder software is used to quickly and easily create inspection setups based on the configuration of the component or part to be inspected. The software generates simulations of inspection strategies, enabling clear visualization of beam coverage for the targeted inspection area. Once the optimal inspection setup is determined, it is quickly imported, via USB or SD card transfer, directly into the OmniScan SX, thereby reducing configuration time and manipulation errors.



The OmniPC software is a computer-based program that provides comprehensive data analysis capabilities for inspection data acquired with the OmniScan SX. The option to perform the inspection analysis with OmniPC provides an opportunity for cost-savings, and a time-saving advantage as well. Inspection jobs can be divided in two; the OmniScan SX instrument can be employed as a dedicated acquisition unit in the field, while the data is analyzed exclusively on a PC.



In addition to the introduction of the OmniScan SX, Olympus NDT is releasing an updated version of the software (MXU 4.1).The entire OmniScan family, including the OmniScan MX2 and OmniPC analysis software, will benefit from the latest software innovations. The result is an enhanced user experience, increased productivity, and a simplified learning curve for inspectors.



"The OmniScan SX represents a true breakthrough in making phased array technology more accessible to new users of this technology. With its simplicity of use and competitive price point, the OmniScan SX flaw detector has many benefits and will create a positive impact on flaw detector users. This exciting, lightweight instrument along with new software and hardware will contribute toward making the OmniScan product line the most complete offer to serve the NDT workforce." says François-Côme Beaupré, Product Manager, OmniScan PA/UT, at Olympus NDT.



About Olympus

Olympus Corporation is an international company operating in industrial, medical, and consumer markets, specializing in optics, electronics, and precision engineering. For the industrial professional, Olympus is a world-leading manufacturer of innovative test and measurement solutions that are used in industrial and research applications ranging from aerospace, power generation, petrochemical, civil infrastructure, and automotive to consumer products. Leading-edge testing technologies include ultrasound, phased array, eddy current, remote visual, high-speed video, microscopy, optical metrology, X-ray fluorescence, and X-ray diffraction. Its products include flaw detectors, thickness gages, videoscopes, microscopes, analytical analyzers, industrial scanners and probes, and various accessories.



Our goal is to supply reliable, economical systems globally that enhance safety, security, quality and productivity for customers and that contribute to society. We are committed to actively pursuing the development of new technologies, products, and services that offer the best solutions to customers' needs. Our commitment to designing quality products is directly linked to our customers' responsibility to comply with the highest industry standards and regulations in order to ensure public safety.



For more information please contact:

Meindert Anderson

Corporate Marketing Communications Manager

(1) 781-419-3562

meindert.anderson@olympusNDT.com

Web: www.olympus-ims.com

More from Fluid & Gas Flow Equipment