Flatpack and Slimpack Capacitors with 5,000 hours operating life.
Press Release Summary: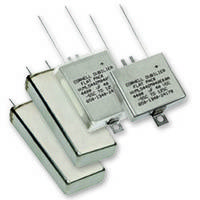 Applied in compact power supplies like military and aerospace systems, MLSG Flatpack and Slimpack Capacitors measure 0.5" thick and 1.75" wide and 0.5 in thick by 1 in wide respectively. Flatpack welded seals capacitors can withstand up to 50g vibrations and altitudes greater than 80,000 ft. Flatpack capacitors are offered in values 220µF to 24,000µF and Slimpack from 120µF to 3,200µF, both are rated at 250VDC.
---
Original Press Release:
New Yorker Electronics Releases New CDE Rugged Critical Systems Capacitor Delivering 5,000-Hour Life at 125°C
MLSG Series of Cornell Dubilier Flatpack and Slimpack Ruggedized Aluminum Electrolytic Capacitors with Welded Seals, Geared to Military & Aerospace
New Yorker Electronics has introduced the latest in a series ruggedized aluminum electrolytic capacitors with welded seals from Cornell Dubilier Electronics (CDE), the MLSG in both Flatpack and Slimpack. This series targets compact power supply applications in military and aerospace, as well as other critical systems. Design enhancements and a new electrolyte push the MLSG to nearly double the operating life of its predecessor, the MLSH, at no added cost.
Two principal package profiles are offered in this technology, the MLSG Flatpack which measures just 0.5in thick and 1.75in wide and the MLSG Slimpack measuring 0.5in thick by 1in wide, both offered in lengths of 1.5, 2, 2.5 or 3 inches.
MLSG Flatpack welded seals capacitors can be made to withstand up to 50g vibrations (10g standard) and altitudes greater than 80,000 feet. With stainless steel cases and near hermetic welded seals, they are built for extended duty in very harsh conditions. Especially noteworthy is that a high level of performance is maintained over the full operating temperature range. Capacitance retention at -55°C is very strong, with excellent high temperature performance up to +125°C. The new electrolyte system is fully REACH compliant, allowing application of the components in a broad range of applications where space efficiency and extraordinarily long life are required.
A wide range of standard capacitance values from 220µF to 24,000µF are available, with voltage ratings up to 250VDC. The unique flat package design does more than save space. It is easily cooled, and can offer unique flexibility in ganging two or more devices in ways that conventional electrolytics can't. 
Options include High Vibration (HVMLSG), for performance to 50g, and High Reliability (HRMLSG), with burn-in at rated voltage and 85°C. Where a true glass-to-metal hermetic seal is required, CDE offers the MLSH Slimpack, which is similarly constructed in a flat stainless steel package. It is available in nine values, from 120µF to 3,200µF, with ratings up to 250VDC.
With a profile of 1in x .5in, the MLSG Slimpack welded seals capacitors fit into the tightest of spaces and meet a DC test of 5,000 hours at rated voltage, 125°C. MLSG Slimpack is a perfect fit for military and aerospace applications requiring a low profile, rugged design and long-life. The MSGL Slimpack is also available in an HRMLSG type for high reliability burn-in – and is rated to vibration levels of 80g.
Features & Benefits
• 5,000 hours @ rated voltage of 125°C
• Stainless steel case
• Withstands more than 80,000ft altitude
• Type HR, high reliability burn-in
• Type HV, high vibration levels
• Flatpack to 50g; Slimpack to 80g
Applications
• Aerospace
• Military
• Critical Systems
• Power Supplies
New Yorker Electronics is a franchise distributor for Cornell Dubilier carrying the MLSG Flatpack Ruggedized Flat Aluminum Electrolytic Capacitor as well as its full line of Aluminum Electrolytic Capacitors, AC Oil Filled Capacitors, DC Oil Filled Capacitors, Film Capacitors, MICA Capacitors, Ultracapacitors, Surface Mount Capacitors, Aluminum Polymer Capacitors, Supercapacitors, plus Capacitor Hardware and Capacitor Kits.
ABOUT NEW YORKER ELECTRONICS
New Yorker Electronics is a certified franchised distributor of electronic components, well known for its full product lines, large inventories and competitive pricing since 1948. New Yorker Electronics is an AS9210 and ISO 9001:2016 certified source of capacitors, resistors, semi-conductors, connectors, filters, inductors and more, and operates entirely at heightened military and aerospace performance levels. It also functions in strict accordance with AS5553 and AS6496 standards — verifying that it has implemented industry standards into everyday practices to thwart the proliferation of counterfeit parts. It is a member of ECIA (Electronics Component Industry Association) and of ERAI (Electronic Resellers Association International).
M. Pappas
Marketing Manager
NEW YORKER ELECTRONICS CO., INC.
209 Industrial Parkway
Northvale, NJ  07647
201-750-1171 x330
201-750-1174 (F)   
More from Explosives, Armaments, and Weaponry