Flat Sheet Membranes are Made of Polyethersulfone Material
Press Release Summary: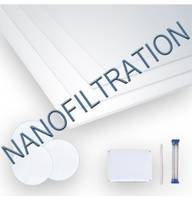 Flat Sheet Membranes are available in 4, 5, 10, 20, 30, 50, and 150kDa MWCO. Units are suitable for municipal and industrial applications. Offering hydrophilic and chemically resistance, products are used in sepa CF filtration cell, CF042 and CF016 filtration cells.
---
Original Press Release:
New Nadir Flat Sheet Membranes
NADIR flat sheet membranes from Microdyn-NADIR are now available. NADIR Polyethersulfone (PES) membranes are offered in a wide range of MWCO: 4, 5, 10, 20, 30, 50, and 150kDa in addition to the 150kDa Polyvinylidene fluoride (PVDF) and 500kDa Regenerated Cellulose (RC) membranes. Addition of NADIR membranes to the Sterlitech product line fills the gaps in our membrane flat sheet offering MWCO spectrum. NADIR membranes are designed for municipal and industrial applications. These are permanently hydrophilic and chemically resistant, increasing performance and longevity of the membranes and significantly reducing fouling. 
These new additions are available in large sheets, as well as in precut coupons for use in the Sepa CF filtration cell, CF042 and CF016 filtration cells, and most stirred cells. Custom membrane sizes are also available upon request. For more information about NADIR membranes or if you need assistance to find products suited for a specific application, please contact Sterlitech at sales@sterlitech.com.To browse our complete selection of UF membranes or to place an order with us, click https://www.sterlitech.com/flat-sheet-membranes.html
Contact:
Sterlitech Corp
22027 70th Ave. S
Kent, WA, 98032-1911
Phone: 253-437-0844
Url: http://www.sterlitech.com
Email: sales@sterlitech.com
More from Services