Industrial / Specific Purpose Computers
Flat Panel Computer supports 20 years of cutout capability.
Press Release Summary: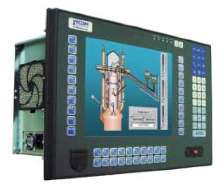 Measuring 7.4 in. deep with 6.4 in. mounting depth, 3712KPM all-in-one industrial computer comes with 12.1 in. SVGA flat panel LCD; Celeron® 850 MHz CPU; 256 MB RAM; 20 GB hard drive, and CD-ROM and floppy drives. Operator input options include keypad with integrated industrial mouse; touchscreen is optional. Able to be used with PC compatible devices, unit has onboard 10/100 Base-T Ethernet, USB port, parallel port, 2 serial ports, and PS/2 keyboard/mouse port.
---
Original Press Release:

Xycom Automation Introduces the 3712KPM - Supporting 20 Years of Cutout Compatibility


Saline, MI - May 19, 2004 - Xycom Automation, Inc., a subsidiary of Pro-face America, Inc. and a market leader in Industrial PCs, announces the release of the 3712KPM flat panel industrial computer. This product is a compact, high-performance, all-in-one computer, which supports cutout compatibility with products used over the last 20 years. Many of these older products are still in operation and updating hardware just became easier.

The 3712KPM is compatible with the panel cutouts utilized by Xycom units, such as the 2050, 4150, 4850, 8450, 9450, 9475, 9485, and 9487. The cutout also matches those used by other vendors' units such as the Allen-Bradley T30, T35, T70 and SquareD SyView and SyMax units. Many of these units cannot utilize the operating systems and applications used today. With the 3712KPM, a new computer can be put in place without altering the mounting hardware. A more extensive list is available from Xycom.

These innovative products further enhance Xycom's new generation of industrial PC products that has already begun to replace the very successful 3500 series. Operator input options include keypad with integrated industrial mouse with an optional touchscreen (3712KPMT). The 3712KPM comes standard with a 12.1-inch SVGA flat panel LCD. A Celeron® 850 MHz CPU, 256 MB RAM, 20GB hard drive, and standard CD-ROM and floppy provide more than enough power and flexibility for the most demanding factory automation applications. Optionally, these products are available with a choice of Intel® Pentium® III 1.0 and 1.26 GHz processors, and DRAM options up to 512 MB. With onboard 10/100 Base-T Ethernet, USB port, parallel port, two serial ports, and PS/2 keyboard/mouse port, these units are well-suited for use with virtually any standard PC compatible device. The 3712KPM product provides expansion capabilities up to three full-length and one ½-length PCI and ISA cards. An externally accessible Type I or II CompactFlash(TM) site or remote drive bay option is also available. All this power, connectivity, and expansion is contained in a package that is only 7.4 inches deep (6.4 inches mounting depth).

"The 3712KPM exemplifies Xycom Automation's commitment to long term support for our factory automation customers who recognize the value of our truly industrial products," said Ralph Damato, Business Unit Manager, Industrial PC Products for Xycom Automation. "With this product, updating aging machines just became easier. There is no need to alter sheet metal, saving time, money, and complexity," continues Damato.

All 3712KPM variations carry the European CE mark and include UL and cUL agency approvals. This new line is also approved for Class I & Class II, Division 2 Hazardous Locations. Additionally, the 3712KPM offers front access USB and PS/2 ports, which are approved nonincendive circuits for connection within hazardous locations. The product can operate in 0°C to 50°C environments without additional cooling, and can be purchased with MS-DOS®, Windows® 98, Windows NT®, Windows® 2000 (multi-language) or Windows XP preloaded and configured to make setup a breeze.

Xycom Automation is a leading global supplier of innovative industrial automation solutions. Principal products include PC-based, open architecture visualization and control offerings. Xycom products serve industrial, automotive, aerospace, packaging, plastics, textile, and other markets, with hardware and software installed in over 200,000 factory-floor systems worldwide.

Xycom Automation is a wholly owned subsidiary of Pro-face America, Inc., and provides marketing and sales for all Pro-face products in North, Central, and South America, and all Xycom products worldwide. Headquartered in Saline, Michigan, Xycom has employees and representatives around the world.

Founded in January 1999, Pro-face America, Inc. is a majority-owned subsidiary of Digital Electronics Corporation based in Osaka, Japan. Pro-face America, the North American headquarters of Digital, is located in Glendale Heights, IL.

For more information about Xycom Automation and Pro-face America, visit www.xycom.com.

More from Electrical Equipment & Systems