Flash Microcontrollers suit low-voltage applications.
Press Release Summary: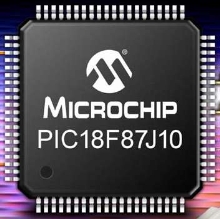 Able to deliver up to 10 MIPS at 3 V, 8-bit PIC18F87J10 series is comprised of 10 models that utilize nanoWatt technology for power management while providing linear access to 32-128 Kbytes of onboard Flash memory. Series employs 2 synchronous serial ports, capable of SPI(TM) or I2C(TM), as well as 2 asynchronous serial ports, LIN-capable USARTs. Products are offered with up to 4 Kbytes of data RAM and incorporate 5 timers/counters and 2 analog comparators.
---
Original Press Release:

Microchip Technology Introduces New Family of Highly Cost Effective Flash 8-bit PIC® Microcontrollers, Doubles the Performance in Low-Voltage Designs


Ten New PIC18F Microcontrollers Deliver 40 MHz at 3 Volts and 32 to 128 Kbytes of Flash memory in 64- and 80-pin packages

CHANDLER, Ariz., April 25, 2005 [NASDAQ: MCHP - Microchip Technology Inc., a leading provider of microcontroller and analog semiconductors, today announced the first ten members of its high-pincount, high-density memory PIC18F87J10 Flash microcontroller family, which double the performance in low-voltage applications by delivering up to 10 MIPS at 3V.

As the performance levels among 8-, 16- and 32-bit microcontrollers continue to blur and more designs migrate to lower voltages, embedded engineers are looking for cost-effective yet peripheral-rich 8-bit microcontrollers with high memory densities and pincounts that help them preserve their legacy 8-bit code and development-tool investments. The PIC18F87J10 8-bit microcontroller family addresses these performance and memory needs by providing linear access (no pages) to as much as 128 Kbytes of onboard Flash memory, while offering complete code and tool compatibility with all PIC18F microcontrollers. In addition, the new PIC18F87J10 microcontrollers include nanoWatt Technology for optimal power management and prolonged battery life, along with two synchronous serial ports (capable of SPI(TM) or I2C(TM)) and two asynchronous serial ports (LIN-capable USARTs) for expanded connectivity.

"This new PIC18F family redefines the price-performance ratio for high-pincount and high-density memory 8-bit microcontrollers serving complex embedded applications," said Mitch Obolsky, vice president of Microchip's Advanced Microcontroller Architecture Division.

High-end applications that can take advantage of the PIC18F87J10 family's low operating voltage and high performance levels include: industrial (TCP/IP interface, home-alarm/security-system keypad, server power-supply and temperature controller, power-meter hub, central AC communication controller); consumer (wireless Internet-enabled appliance, hands-free cell phone adapter, cappuccino machine, two-way pager); automotive (car alarm); medical (bio flow meter).

Other key features of the PIC18F87J10 family include:

· 32 to 128 Kbytes of Flash program memory
· Up to 4 Kbytes of data RAM
· Two Enhanced Universal Synchronous/Asynchronous Receiver/Transmitter modules for RS232, RS485 and LIN serial interfaces
· Two Master Synchronous Serial Port modules, each supporting Master I2C or SPI interfaces
· Five Timers/Counters (3 x 16-bit, 2 x 8-bit)
· 15-channel, 10-bit Analog-to-Digital Converter with auto-acquisition timing
· Two Analog Comparators
· Three Enhanced Capture/Compare/PWM modules with support for MOSFET (H-bridge) motor drives
· Two standard Capture/Compare/PWM modules
· Extended Watchdog Timer with prescalar options
· Brownout Reset
· 8-bit/16-bit mode External Memory Access (up to 2 Mbytes)
· Enhanced Instruction Set for improved C Compiler efficiency

Development Tools
The new PIC18F87J10 microcontrollers are supported by Microchip's world-class development systems, including: MPLAB® Integrated Development Environment (IDE), MPLAB Visual Device Initializer, MPLAB C18 optimizing C Compiler, Application Maestro(TM) software, MPLAB ICD 2 In-Circuit Debugger and MPLAB PM3 Universal Device Programmer. The PICDEM(TM) HPC Explorer Board (part # DM183022), is also available to ease development with these high pin-count, large-memory microcontrollers.

Availability
All ten PIC18F87J10 family microcontrollers are available now for limited sampling, and volume production is expected in June. Details about family member packages, memory options and features can be obtained online at www.microchip.com/highpin. For pricing and/or additional information, contact any Microchip sales representative or authorized worldwide distributor.

About Microchip Technology
Microchip Technology Inc. (NASDAQ: MCHP) is a leading provider of microcontroller and analog semiconductors, providing low-risk product development, lower total system cost and faster time to market for thousands of diverse customer applications worldwide. Headquartered in Chandler, Arizona, Microchip offers outstanding technical support along with dependable delivery and quality. For more information, visit the Microchip website at www.microchip.com.

Note: The Microchip name and logo, PIC and MPLAB are registered trademarks of Microchip Technology Inc. in the USA and other countries. Application Maestro is a trademark of Microchip Technology Inc. in the USA and other countries. I2C is a trademark of Philips Corporation. SPI is a trademark of Motorola. All other trademarks mentioned herein are the property of their respective companies.

More from Materials