Fin Tube Removal Tool peels fin and bevels tube in one step.
Press Release Summary: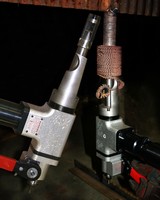 Fin MILLHOG® Tube Fin Removal Tool removes 4 in. of fin from tube OD in less than 4 minutes and bevels the end all in one step. Capable of working in any position, air powered tool clamps to tube ID and has no reaction torque. Product features tool steel cutter blade and heavy-duty rack and pinion feed mechanism for rapid insertion into tube. Cutter blade is made from high grade tool steel, can be resharpened, and requires no cutting lubricants.
---
Original Press Release:

Fin Tube Removal Tool Peels Fin, Bevels Tube in One Step



A new tool, especially designed for finned tube repair and tube fabrication shops, that can remove 4" of fin from a tube O.D. in under four minutes and bevel the end has been introduced by ESCO Tool of Medfield, Massachusetts.

The Fin MILLHOG® Tube Fin Removal Tool features a special purpose tip (patent pending) that cuts the bond between the fin and tube O.D. and then bevels the tube end all in one step. Capable of working in any position, this air powered, hand-held tool clamps to the tube I.D., has no reaction torque, and can remove 4" of fin from a tube O.D. in under four minutes.

Eliminating the need for chipping hammers and grinders, the Fin MILLHOG® Tube Fin Removal Tool saves time and improves operator safety. It has a heavy-duty rack and pinion feed mechanism for rapid insertion into the tube and also backs off quickly. The cutter blade is made from high grade tool steel, can be resharpened by the user, and requires no cutting lubricants.

The Fin MILLHOG® Tube Fin Removal Tool is priced at $5,245.00 and is available for rent at $325.00 per week in the continental U.S.A. Literature is available upon request.

For more information contact:

ESCO Tool
A Unit of Esco Technologies, Inc.
Matthew Brennan, Marketing Director
50 Park St. / P.O. Box 530
Medfield, MA 02052
(800) 343-6926 FAX (508) 359-4145
e-mail: matt@escotool.com
www.escotool.com

Related