Film Coater provides 99% fluid transfer efficiency.
Press Release Summary: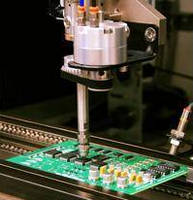 Available in circulating and non-circulating versions with single valve design, Nordson ASYMTEK Select Coat® SC-280 applies conformal coating material to circuit boards in controlled, uniform film rather than atomized spray, minimizing overspray, masking, and rework. System handles viscosities of less than 100 cps and delivers coating thicknesses from 0.5-8 mils for solvent-based materials. Variety of cross-cut nozzles is available to dispense film pattern widths from ~0.25-0.75 in.
---
Original Press Release:

Nordson ASYMTEK's Select Coat SC-280 Film Coater Improves Material Utilization by 30 to 50 Percent in Conformal Coating Applications



~ Provides 99 Percent Fluid Transfer Efficiency Quickly, Repeatably, and Cost Effectively ~

See Nordson ASYMTEK at NEPCON China Booth #1A05

Carlsbad, CA, USA - Nordson ASYMTEK, a leader in dispensing, coating, and jetting technologies, introduces its new film coater for automated, selective, and precision application of conformal coating materials. The Nordson ASYMTEK Select Coat® SC-280 provides greater than 99 percent fluid transfer efficiency, improving material utilization by 30 to 50 percent. It selectively coats complex circuit boards in seconds. Because the coating material is not atomized and is precisely applied to the selected areas, overspray, masking, and rework associated with conventional conformal coating processes are minimized or eliminated.

"Nordson invented film coating over 20 years ago and is continuing to make evolutionary improvements to this process using our years of experience and customer feedback," said Hector Pulido, conformal coating product specialist, Nordson ASYMTEK. "Nordson ASYMTEK's SC-280 design is based on the popular Nordson SC-104/204 film coater, which has been an industry standard for many years. The new coater has an even faster response, is more repeatable, and the solenoid has a longer life. It's easy to clean and is environmentally friendly. The system improves material utilization, achieves less waste, and reduces costs."

The film coater applies conformal coating material in a controlled, uniform film rather than an atomized spray. Material is directed under low pressure through the dispenser and dispensing nozzle. Material is applied to the circuit board prior to the point of atomization.

The SC-280 has a single valve design and comes in two versions, circulating (SC-280C) and non-circulating (SC-280N). It handles viscosities of less than 100 centipoise (cps). Coating thicknesses range from 0.5 to 8 mils for solvent-based materials. The stainless steel fluid path is compatible with virtually all coating materials. A variety of cross-cut nozzles are available to dispense film pattern widths from 6 to 19 mm (~0.25 to 0.75 inch). Each nozzle delivers excellent edge definition with a tolerance of ± 0.75 mm (~0.030 inch). The film coater has a zero to 90 degree rotating axis. An optional five-axis accessory allows tilting of the nozzle to coat all four sides and under the components. Non-atomized coating process and ventilated system reduce volatile organic compound (VOC) emissions.

About Nordson ASYMTEK

Nordson ASYMTEK, a world leader in precision automated fluid dispensing, conformal coating, and jetting technologies, designs and manufactures a full line of dispensing and coating systems, supported by a global applications and service network. Recognized for its innovative equipment and excellent service, Nordson ASYMTEK continues to offer advanced dispensing solutions for a range of precision assembly processes. These include semiconductor packaging, printed circuit boards, LEDs, flat panel displays, medical and biotechnical devices, and solar and photovoltaic products. Nordson ASYMTEK is an ISO 9001:2008 certified company and has received numerous awards for its service excellence and product innovations. For more information, visit www.nordsonasymtek.com or http://www.twitter.com/NordsonASYMTEK.

About Nordson Corporation

Nordson Corporation (Nasdaq: NDSN) is one of the world's leading producers of precision dispensing equipment that applies adhesives, sealants, liquid and powder coatings and other materials to a broad range of consumer and industrial products. The company also manufactures equipment used in the testing and inspection of electronic components as well as technology-based systems for UV curing and surface treatment processes. Headquartered in Westlake, Ohio, Nordson has direct operations and sales support offices in more than 30 countries. Visit Nordson on the web at www.nordson.com, www.twitter.com/Nordson_Corp or Facebook.


More from Communication Systems & Equipment