Fiber Optic Panels provide alternative LCD backlighting.
Press Release Summary: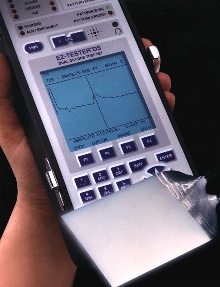 LED-driven fiberoptic panels can backlight LCDs with power as low as 10-20 mA at 2 Vdc with life as high as 100,000 hours with no inverter. One panel can spread light from single LED up to 4 in. wide and 10 in. long. Panels are constructed of 1 to 8 layers assembled with double-sided adhesive, with each additional layer increasing brightness. Applications include membrane switches, digital controllers, and test and measurement equipment.
---
Original Press Release:
Fiber Optic Panels Provide Alternative LCD Backlighting Technique To CCFLs

Strongsville, OH, January 2002 - Cold cathode fluorescent lamps aren't necessarily the best way to backlight LCDs for applications like membrane switches, digital controllers, test and measurement equipment and medical instrumentation. According to Lumitex, Inc., fiberoptic panels offer a unique combination of benefits that CCFLs do not.

An LED-driven fiberoptic panel can backlight an LCD with less power and longer life than cold cathode fluorescent lamps (as low as 10-20 mA at 2 VDC with life as high as 100,000 hours), with no inverter required. A single panel can uniformly spread out the light from a single LED up to approx. 4" (100 mm) in width and 10" (250 mm) in length.

Fiberoptic panels are extremely compact (as thin as .013", or 0.33 mm), and the remote light sources they utilize are smaller than many inverters that power CCFLs. They use much less current than CCFLs, and an external power supply can often be eliminated,
or a smaller power supply can be used. The panels generate no heat or EMI and are unaffected by shock, vibration or extremes in temperature and humidity.

"These panels are ideal for applications where the LCD's active display area is up to 1/4 VGA, or approximately 2.5" to 3.5" in width and 2.5" to 5" in length, said David Page, Product Manager at Lumitex.

Lumitex fiberoptic panels are constructed of from one to eight layers assembled together with double-sided adhesive, with each additional layer increasing brightness (to 50 Ft-L and more). A polyester reflector is laminated to the back, a clear vinyl top layer is added for extra durability, and a semi-transparent diffusion layer is placed between the top weave layer and the clear vinyl layer.

The optical fibers extend from the panel in cable form and are bundled into a brass ferrule that is connected to a remote light source, such as a single LED, a low-current incandescent lamp or a high-wattage halogen lamp. Standard LED colors include green, white, blue, red, amber and yellow-green.

Pricing for Luimtex woven fiber optic panels ranges from $8 to $30 each, depending on quantity and size. Contact Lumitex for details.


More from Fluid & Gas Flow Equipment