FCS16 Rip-R-Stripper™ offers a cutting width of 16 in.
Press Release Summary: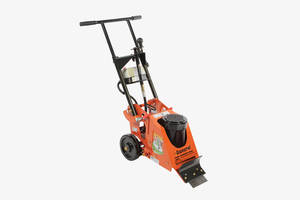 FCS16 Rip-R-Stripper™ is constructed from heavy-duty unitized, welded steel-plate frame. Unit features 3/4 HP, 115/230 VAC, 60-Hz electric motor, quick-release operator handles and integrated static weights. Product is equipped with Back-Saver™ Blade control system used for adjustment of the blade angle. Unit comes with 37 ft extension cord with GFCI, magnetic-type on/off switch, 4 x 6 in. straight blade and 3 x 10 in. straight blade.
---
Original Press Release:
General Equipment Company Introduces Next Generation of FCS16 RIP-R-STRIPPER™ Floor-Covering Remover
General Equipment Company introduces the new FCS16 Gen 3 RIP-R-STRIPPER™. Enhancing the proven design and effectiveness of the previous FCS16 model, the Gen 3 unit features an advanced blade clamping system, improved centralized lubrication, quick-release operator handles and integrated static weights to maximize productivity when removing VCT tiles, rubber-backed carpeting and other sheet-type coverings from wood and concrete surfaces.
The FCS16 Gen 3 is powered by a quiet ¾-horsepower, 115/230 VAC, 60-Hertz electric motor and offers a maximum cutting width of 16 inches. An exciter plate with improved armature design is mounted directly to the driveshaft creating powerful random-orbit action for maximum effectiveness in driving the stripping blade repeatedly under the material to be removed. The improved centralized lubrication system now also lubricates the armature bearings to help keep them in perfect alignment, further increasing service life.
Whereas the previous model could be combined with external weights to increase downforce on the blade, the new unit includes integral, 16-pound concealed static weights to better address tough residues and increase overall removal rates. This is a much more convenient design and helps eliminate the chance for lost parts.
One common problem when removing flooring is dealing with material buildup. The FCS16 Gen 3 combats this with a unique three-bolt blade clamping system, which prevents unwanted flooring materials from getting stuck under the clamp, helping to ensure better blade retention, continuous productivity and keep long-term maintenance costs to a minimum.
Ergonomics remained a key focus in the redesigned FCS16. It includes the Back-Saver™ Blade Control System, allowing infinite adjustment of the blade angle during use. Without having to stop the machine to manually change blades or adjust linkages, productivity and safety are maximized. Furthermore, the fully adjustable operator handle includes a new quick-release feature to easily fold for transport. With a compact design weighing only 149 lbs. (68 kg) and a newly enhanced integral, easy-on-the-fingers ergonomic front lift handle, the FCS16 can be easily set into and hauled by most vehicles, making it approachable for the most novice rental customer.
The FCS16 is built with a heavy-duty unitized, welded steel-plate frame and only one moving part, making it able to handle the most aggressive jobsites and operators. It comes standard with a 37-foot extension cord with GFCI, magnetic-type on/off switch, 4-inch by 6-inch straight blade (part #FCS16-1100) and 3-inch by 10-inch straight blade (part #FCS16-1300).
In business for more than 60 years, General Equipment Company is a family-owned manufacturer of hole digging, surface preparation, dust collection, plus portable ventilation, air scrubbing and lighting equipment. For more information, contact General Equipment Co., 620 Alexander Drive S.W., Owatonna, MN 55060, call 507-451-5510 or 800-533-0524, fax 507-451-5511 or 877-344-4375, or visit the website at www.generalequip.com.