Fasteners enable sheet-to-sheet attachment without screws.
Press Release Summary: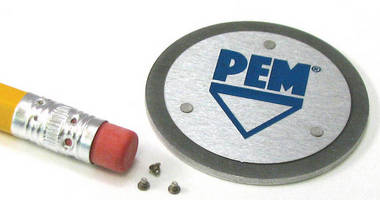 Where disassembly is not required, microPEM(TM) TackPin(TM) (Type T(TM)) fasteners replace screw installation in compact electronic assemblies. Use eliminates screw-related issues such as tapping, cross-threading, torque control, and vibration backout while facilitating and accelerating installation. During insertion, tapered tip assists in location, interference fit eliminates hole-tolerance issues, and self-clinching action results in full 360º metal contact.
---
Original Press Release:

Type T(TM) Micropem(TM) Tackpin(TM) Fasteners Enable Sheet-to-Sheet Attachment Without Screws



New Product for Compact Electronic Assemblies:

New microPEM(TM) TackPin(TM) (Type T(TM)) fasteners for compact electronic assemblies enable sheet-to-sheet attachment, replacing costly screw installation in applications where disassembly is not required. Their use eliminates typical screw-related issues (including tapping, cross-threading, torque control, and vibration backout) and ultimately promotes quick and easy installation with minimal hardware. TackPin fasteners can serve as ideal alternatives to welds or adhesives.

Among notable applications, these aluminum fasteners can be specified to attach super-thin membranes to very thin cosmetic substrates, such as keyboards. The fastener's low-profile head provides cosmetic benefits.

Type T microPEM TackPin fasteners install by first preparing properly sized mounting holes in the sheet to be attached and the base panel. After inserting the fastener into these holes, the fastener is pressed into place. The fastener clinches into the base panel and the fastener's head subsequently holds the top sheet (as thin as 0.2 mm) firmly and permanently in place. The base panel can be as hard as HRB 45 or less on the Rockwell "B" scale and should be at least 0.89 mm in thickness for blind holes or 0.5 mm in thickness for thru holes. Upon installation, loosening due to vibration or other factors is not a concern.

During the process, the fastener's tapered tip assists in location, an interference fit eliminates hole-tolerance issues, and the self-clinching action results in full 360º metal contact. The fasteners can be installed automatically for high-volume applications.

New Type T microPEM TackPin fasteners are RoHS-compliant and detailed specifications, CAD models, and performance data (Bulletin T) can be accessed at www.pemnet.com

All microPEM products are manufactured by PennEngineering®, founded in 1942 and this year celebrating 70 years of excellence and innovation in fastening technology.

Contact Michael J. Rossi, PennEngineering®, 5190 Old Easton Road, Danboro, PA 18916-1000 USA. Phones: 800-237-4736 (toll-free in the U.S.) or 215-766-8853; Fax: 215-766-0143. Web site: www.pemnet.com

More from Fasteners & Hardware