Fanless Industrial Panel PC uses Intel® Core(TM) i7 processor.
Press Release Summary: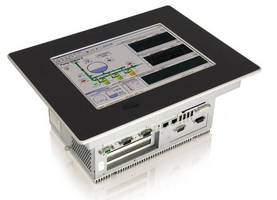 Panel PC family V Panel Express supports 2.2 GHz Intel® Core™ i7-2655 dual-core processor with up to 8 GB DDR3 memory. Suited for use in harsh environments, passively cooled PC operates as real-time control and visualization system for industrial imaging. Product has IP65-protected front panel; resistive touch display; USB, LAN, and DVI-I interfaces; and 2 PCI Express slots; while 2 SATA hard disks or Compact Flash media are supported. Unit is available in 12.1-19 in. display sizes.
---
Original Press Release:

Kontron Panel PC Family V Panel Express Consolidates Multiple Tasks into a Single System



Powerful Intel® Core™ i7 processor offers double the performance for simultaneous real-time control and visualization



Eching, Germany – The Kontron Panel PC family V Panel Express is now available with the Intel® Core™ i7 dual-core processor. Compared to its predecessors, this version offers nearly double the performance and is ideally suited for industrial high-performance applications. While increasing the performance, the system remains fanless – positioned for deployment in harsh industrial environments. Operating as a combined real-time control and visualization system for industrial imaging helps eliminate the need of purchasing two separate systems, saving customers costs and space. Kontron has already presented matching reference designs with RTS Hypervisor, VxWorks, Linux and Windows.



Apart from its overall high performance features, the Kontron Panel PC V Panel Express impresses with its consistent industrial-purpose design. Thanks to its 100% passive cooling concept, the Panel PC needs neither a fan nor a fan filter to be replaced and is therefore completely maintenance-free. An optimal shock, vibration and temperature resistance are all standard features of the Panel PC family. The same is true for its high-level of protection against electromagnetic interference, which is often found in industrial environments emitted from electric motors. The V Panel Express is scalable from 12.1 inches to 19 inches serving the increased demand for larger display sizes. The front panel is made of stainless steel and offers IP65 protection against dust and spray water. The resistive touch display, with LED backlight, enables reliable operation even when working with gloves and pens is required. Optionally, the front panel can be designed to cater to customers' specifications, including individual branding.



The feature set in detail

The Kontron V Panel Express, with long-term availability of up to 5 years, supports the Intel® Core™ i7-2655 dual-core processor with 2.2 GHz (2.9 GHz in turbo mode) and up to 8 GB DDR3 memory. For applications with less performance demands, a version is available with the 1.4 GHz Intel® Celeron 827E single-core processor. The integrated range of interfaces suitable for industrial deployment includes 5x USB (1x front, 4x rear), 1x LAN 10/100, 1x LAN 10/100/1000, 2x RS232 and 1x DVI-I. Via up to two PCI Express slots, customer-specific extensions can be integrated, i. e. for different field busses. In terms of storage media, either up to two SATA hard disks or especially robust Compact Flash media can be housed.



Kontron's CE certified Panel PC family V Panel Express is now available in EMEA and North America and supports Windows XP, Windows 7 and Linux Embedded.



About Kontron

Kontron is a global leader in embedded computing technology. With more than 40% of its employees in research and development, Kontron creates many of the standards that drive the world's embedded computing platforms. Kontron's product longevity, local engineering and support, and value-added services, helps create a sustainable and viable embedded solution for OEMs and system integrators. Kontron works closely with its customers on their embedded application-ready platforms and custom solutions, enabling them to focus on their core competencies. The result is an accelerated time-to-market, reduced total-cost-of-ownership and an improved overall application with leading-edge, highly-reliable embedded technology.



Kontron is listed on the German TecDAX stock exchange under the symbol "KBC". For more information, please visit: http://www.kontron.com/



Media Contacts



Americas

Richard Pugnier

Kontron

Tel:+1 (858) 623-3006

richard.pugnier@us.kontron.com



Annette Keller

Keller Communications

Tel:+1 (949) 640-4811

annettekeller@sbcglobal.net



All rights reserved. Kontron is a trademark or registered trademark of Kontron AG. Intel® Intel® Celeron™ and Intel® Core™ are trademarks of Intel® Corporation in the US and other countries. All other brand or product names are trademarks or registered trademarks or copyrights by their respective owners and are recognized. All data is for information purposes only and not guaranteed for legal purposes. Subject to change without notice. Information in this press release has been carefully checked and is believed to be accurate; however, no responsibility is assumed for inaccuracies.

More from Electrical Equipment & Systems