Industrial / Specific Purpose Computers
Fanless Computer offers entertainment/broadcasting solution.
Press Release Summary: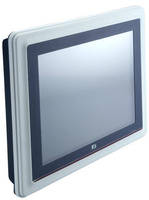 Utilizing Intel® Atom(TM) processor N270 and 945GSE chipset, GOT-5120T-830, 12.1 in. SVGA TFT touch panel computer measures 52 mm thick and integrates 10/100/1000Mbps Ethernet, mini card slot, and WLAN antenna for wireless LAN/GPRS/GSM/3G connections in real time. It includes 2.5 in. SATA HDD and CompactFlash(TM) storage devices. Featuring anti-vibration design and aluminum back chassis, HMI also includes overcurrent protection fuse. It can be mounted via panel/wall/VESA/stand.
---
Original Press Release:

Let AXIOMTEK's GOT-5120T-830 be Your Infotainment/Entertainment Broadcasting Solution



The 12.1" fanless touch panel computer in a modern & ultra slim footprint adopts Intel® Atom(TM) processor N270, touchscreen, mini card slot & built-in WLAN antenna, optional RFID and thermal solution

Taipei, Taiwan, October 1, 2009 - As the market of infotainment and entertainment broadcasting kiosk is becoming increasingly prevalent, AXIOMTEK presents a new 12.1" SVGA TFT fanless touch panel computer, the GOT-5120T-830 for varied applications. To sustain continuous and repeated usage, this compact unit delivers superior computing and graphics capability on fanless operation and power saving advantage, with Intel® Atom processor N270 and Intel® 945GSE chipset. Its light weight, modern and ultra slim mechanical design can perfectly blend with any space to create the lovely atmosphere. Besides, there are more marvelous features tightly integrated into the GOT-5120T-830 to support a wide range of digital content broadcasting, which are touchscreen, mini card slot and built-in WLAN antenna for wireless network connection, optional RFID function, 2.5" SATA HDD and CompactFlash storage devices, thermal solution and anti-vibration design. Thus, this fanless human machine interface can greatly contribute to anywhere people would visit like supermarket, mall, restaurant, museum, theater, music store, station, hotel, meeting room and convenience store.

The superior performance of Intel® Atom(TM) processor speeds up the transaction times and enables convenient self-service experience. Plus, the aluminum back chassis proves to be the excellent thermal solution for system stability and reliability. "The operators that deploy the GOT-5120T-830 can increase productivity by providing viewers the content efficiently and accurately in an intuitive way, for self-ordering kiosk in restaurant, advertising kiosk in supermarket, information kiosk in train station, check-in/out kiosk in hotel," said Alex Hsueh, Product Manager of Touch Panel Computer Business Unit. "It offers maximum functionality in a compact and solid footprint. Through the new kind of marketing communication way, the market operators can extend the reach, and make the content delivery more effective and real-time."

Besides, this slim and exquisitely designed platform can not only easily fit into any environment, but also outfits a 10/100/1000Mbps Ethernet, and a mini card slot/a built-in WLAN antenna for wireless LAN/GPRS/GSM/3G connections in real time. For purpose of identification, the optional RFID (radio frequency identification) can provide an efficient way for such as library, school, logistics and transportation fields to validate the access, inbound/outbound items and more operation. Other abundant features the GOT-5120T-830 accommodates are, 2.5" SATA HDD and CompactFlash(TM) (vibration resistance up to 2G) for storage capacity, various mounting ways of panel/wall/VESA/stand (optional), I/O of 2 COM, 4 USB 2.0, Audio, VGA and over-current protection fuse.

The Atom-based touch panel computer GOT-5120T-830 is available now. For more product information, please visit global website www.axiomtek.com or contact our sales representative at info@axiomtek.com.tw.

Main Features:


12.1-inch SVGA TFT fanless touch panel computer with Intel® Atom(TM) processor N270 - GOT-5120T-830


SVGA color TFT LCD display with resolution of 800 x 600


Light weight (2.4 kg), modern and ultra slim (52mm in thickness) mechanical design


A mini card slot and a built-in WLAN antenna for wireless LAN/GPRS/GSM/3G connections


Optional RFID function


2.5" SATA HDD and CompactFlashTM for storage capacity


Thermal solution and anti-vibration (up to 2G for CompactFlash(TM)) design


Various mounting ways: Panel/Wall/VESA/Stand (optional)


I/O features of 2 COM, 2 USB 2.0, Ethernet, Audio, VGA

About AXIOMTEK CO., LTD.

AXIOMTEK Co., Ltd. is one of the world's leading designers/manufacturers of PC-based industrial computer products. From its roots as a turnkey systems integrator specializing in data acquisition and control systems, AXIOMTEK has mirrored the PC evolution in various industries by shifting its focus toward the design and manufacture of PC-based industrial automation solutions.

AXIOMTEK was established since 1990. The company has 475 employees in headquarters and over 110 employees in subsidiaries including USA, China, Japan, and Europe. The company has appointed more than 60 distributor partners around the globe. AXIOMTEK offers IPC (Industrial PCs), ECP (Embedded Computing Platforms), Touch Panel Computers, Digital Signage & Displays, Medical Panel Computers, HMI (Human Machine Interface), Industrial Networking & Converters, and NA (Network Appliances) product lines with more than 400 items.


More from Packaging Products & Equipment