Industrial / Specific Purpose Computers
Fanless 12 in. Touchscreen Panel PC hosts Intel Core i3/i5 CPU.
Press Release Summary: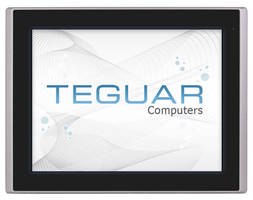 Made for rugged environments, TP-3045-12 features aluminum enclosure optimized for heat dissipation and IP65 true flat resistive or projected capacitive touchscreen. System is powered by 4th gen Intel® Core™ i3/i5 CPU and accommodates up to 8 GB RAM and offers SD slot and 2.5 in. removable SATA HDD or SSD. Although 2 COM ports, 2 USB ports, and 2 LAN lines are standard, inputs and outputs can be configured to end-user/application requirements.
---
Original Press Release:

New 12" Fanless Panel PC Packs a Punch of Power



Teguar unveils a true fanless 12 inch Core i3/i5 touchscreen panel PC for use with demanding programs.



Charlotte – Teguar Computers is excited to bring innovation to the industrial panel pc market. As big data increases, the need for many factory computers to locally collect, then process data on sophisticated software, is increasing. The TP-3045-12 has features that many have desired in a compact industrial computer for some time. The innovation comes with TP-3045-12s' ability to pack a serious punch of power in a small form factor made for rugged environments.



"With the increasing IoT complexity we are seeing in Manufacturing Execution Software advances, the need for higher computing power to extend the lifetime usage of hardware purchases is important to consider. The TP-3045-12 is uniquely sized for its' class."

- Joshua Steinruck, Account Manager at Teguar Corp



While serious processing power in a more compact size has been available in the consumer market, this has not been seen in the fanless industrial grade computer market. Typically the heat generated by a Core i3/i5 CPU is too much for a smaller size enclosure to dissipate without a fan. Buyers are forced to accept sacrifices to either computer durability or computer screen size to get the computing power needed. However, in the TP-3045-12, the 4th generation Intel Core i3/i5 processor is highly energy efficient allowing for thinner profiles containing more processing power with less heat output.



TP-3045-12 Fanless Panel PC has a few design elements that enable a 4th generation Core i3/i5 CPU to be placed in a 12.1" full flat panel touchscreen PC. Through the use of the SoC, less thermal output is created and more space is saved to enable a thin internal board. Another important design element is the generous heatsink integrated with the aluminum enclosure. The above, combined with the IP65 true flat resistive or projected capacitive touchscreen allow for the computer to be placed in environments where dust, grime, moisture and everyday abuses will be encountered with no problems. With up to 8GB Ram, one SD slot, and a 2.5" removable SATA HDD or SSD, there is ample sized room to store data locally if desired. Other elements of the TP-3045-12 include two Com ports, two USB ports, and two LAN lines along with an audio line out and connector for power switch. As with the majority of Teguar products, customization is offered for the TP-3045-12. The inputs and outputs can be configured to your needs. Teguar representatives will work with you to find the best solution.



For more information on the TP-3045-12 or other Teguar Fanless Panel PCs contact Teguar sales team at Sales@teguar.com, call 1 800 970 7715, or visit www.teguar.com.



Company profile:

Headquartered in Charlotte, NC, Teguar is a leading provider of custom, fully enclosed, fanless, waterproof, and medical grade touch screen 24/7 specialized computer solutions. Teguar computers are designed to perform in extreme environments including clean rooms, outdoor in all-weather types, oil rigs, and manufacturing floors. Our dynamic and experienced team keeps pace with changing industry trends whether in industrial automation, food, medical or digital signage applications. We also ensure that our staff is up to date with the most innovative technology and always offer state-of-the art solutions to meet the fast changing market demands. With Teguar's hardware, customers can build a reliable system and experience a fast Return of Investment. Teguar Corporation is an ISO 9001:2008 Registered Company.

More from Computer Hardware & Peripherals