Falling Ball Impact Tester is used for thin film testing.
Press Release Summary: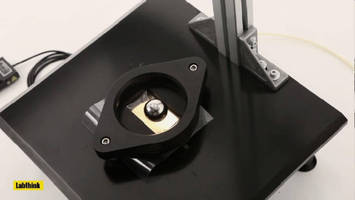 With respective ranges of 50–2,000 g and 300–2,000 g and 0.1 g accuracy, i-Freefall 5100 determines impact resistance of such materials as plastic films, paper, and foils via free falling dart or ball method according to ASTM F1709 (method A and method B). Operation requires user to prepare test specimen according to specific standards, adjust instrument height, and attract falling ball. Accommodating specimens >150 x 150 mm, tester features pneumatic clamping.
---
Original Press Release:

Falling Ball Impact Tester is Used for Thin Film Testing



i-Freefall Falling Dart Impact Tester is designed for determination of the impact resistance property of the plastic film or sheet under the impact of falling ball of specified weight from a specified height.



A: Prepare test specimen according to specific standards. The test specimen should be free of air bubbles, creases or other visible imperfections. The specimen is clamped pneumatically. The sample grips should protect the specimen from a second chance impact



B: Adjust the height of the instrument and attract the falling ball.



C: The steel ball would fall onto the centre of the specimen. Check whether the specimen fails. It is unacceptable if over 2 specimens fail either for length direction or transverse direction.



Labthink International, Inc.

200 River's Edge Drive, Medford, Massachusetts, 02155, U.S.A.

Phone: +1-617-830-2190

FAX: +1-781-219-3638

Email: info@labthinkinternational.com

More from Packaging Products & Equipment