EZX Blast Wheel comes with double-sided bare wheel.
Press Release Summary: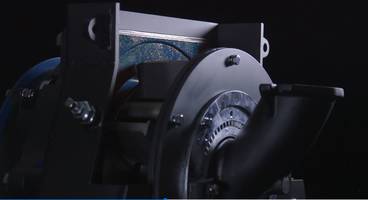 EZX Blast Wheel is available in 35EZX160 size and is used on tumblast, table, hanger-type, horizontal belt, plate, and wire mesh belt machines. EZX offers power in the range of 25 to 75 HP and feature blade measuring 16 in. dia x 3.5 in. W. Product is suitable for heavy-duty foundry applications and its geometry is optimized to reduce shot loss. Unit's precision machining of hub seal ensures proper alignment whereas the back face is machined for seating and centering parts.
---
Original Press Release:
Wheelabrator Introduces New Blast Wheel to Help Foundries Increase Production Uptime
EZX Blast Wheel uniquely built for heavy-duty applications and to help solve complex production challenges
Wheelabrator, a global leader in surface preparation and finishing solutions announces the launch of its EZX Blast Wheel, a next-generation blast wheel for heavy-duty foundry applications. Evolved from the popular EZEFIT® wheel launched in 2003, the new EZX model incorporates latest advances in blast wheel technology - to help foundries ramp up production while saving time and costs.
Built to solve complex production challenges, EZX can be used for and retrofitted on a variety of equipment, including tumblast, table, hanger-type, horizontal belt, plate, and wire mesh belt machines.
"EZX features significant blade life improvements and test results show a 30 percent increase in operational lifespan over and above EZEFIT in the same application," said Shawn Horton, Director of Product Development. "By working with Wheelabrator to implement a focused maintenance program, foundries can expect blade life to be increased further, unlocking considerable savings."
Additionally, systematic testing of impeller designs and intensive R&D efforts have enabled the geometry of the impeller to be optimized to minimize shot loss and smooth the journey of the abrasive inside the wheel. The new EZX impeller is designed to reduce abrasive consumption without compromising performance - helping customers save time and money.
Benefits and features of the new EZX include:
Thicker, redesigned blades for easy, time saving assembly and longer wear life.
Double-sided bare wheel with dynamic balancing using internal weights to reduce time lost in maintenance.
Optimization of the control cage inner diameter and back face machined for proper seating and centering of parts.
Precision machining of the hub seal to ensure proper alignment and keep abrasive from escaping between the housing and motor interface.
"For decades, our customers have trusted Wheelabrator to help them strengthen and finish products with shot blast machinery that excels," said Horton. "We recognize that uptime and ease of maintenance are often major concerns for foundries. With EZX, we have used the latest R&D findings and knowledge drawn from the largest install base in the industry to address these concerns to design the next generation of blast wheel technology for demanding heavy-duty applications".
The new blast wheel is now available in 35EZX160 size. Further models will be released in spring 2018 to enable direct replacement of all EZEFIT sizes, at the same price point.
For more information visit https://www.wheelabratorgroup.com/fr-us/innovation-and-technology/wheel-technology/ezx-wheel.
In brief – EZX features:
Design: Direct drive
Size: 35EZX160 (Further models to follow in spring 2018)
Power range: 25 to 75HP
Blade length: 16" Diameter wheel
Blade width: 3.5" Wide
Frequency: 60 Hz
More from Agricultural & Farming Products