Exchangeable Tip Drill supports stainless steel usage.
Press Release Summary: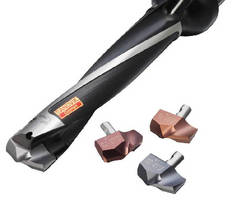 Suitable for steel and cast iron drilling, CoroDrill 870 can be tailored to optimize applications through diameter range, steps, and length possibilities. Cutting edge geometries and grades provide safe cutting process, maximizing penetration rates while maintaining chip control. Grade GC2234 includes fine-grained high chromium substrate and thin AITiN PVD coating for chip resistance. Available in diameter range of 0.394–1.049 in., drill achieves hole tolerances of H9–H10.
---
Original Press Release:

CoroDrill® 870 Exchangeable-tip Drill Now Even Available for Stainless Steel



Fair Lawn, N.J. -- Starting October 1st, drilling in stainless steel will see reduced costs per hole and time savings with the introduction of the CoroDrill 870 for this material. The CoroDrill 870 is part of a new generation of exchangeable-tip drills and was recently launched for steel and cast iron drilling and.



CoroDrill 870 can be tailored to optimize applications through diameter range, steps and length possibilities. Holes can be made more efficiently and closer to the specifications required, leaving them better suited to subsequent operations. A highly secure interface between drill body and tip ensures reliability and precision, while the quick and easy tip change procedure maximizes active machining time. 



Grades and geometries



The new cutting edge geometries and grades provide a safe cutting process, allowing for increased penetration rates while maintaining chip control and increasing tool life. Grade GC2234 includes a fine-grained high chromium substrate and a new PVD coating with optimized composition for ISO M drilling (stainless). The thin AlTiN PVD coating includes enhanced adhesion steps resulting in longer tool life and increased chipping resistance.



The drill is available in diameter range: 10.00–26.65 mm (0.394–1.049 inch) and lengths up to 8 × drill diameter as standard. Each drill body has a unique interface size with matching tips to achieve hole tolerances of H9–H10.



About Sandvik Coromant

Sandvik Coromant is a global leading supplier of cutting tools, tooling solutions and know-how to the metalworking industry. With extensive investments in research and development we create unique innovations and set new productivity standards together with our customers. These include the world's major automotive, aerospace and energy industries. Sandvik Coromant has 8,000 employees and is represented in 130 countries. We are part of the business area Sandvik Machining Solutions within the global industrial group Sandvik.



www.sandvik.coromant.com/us 

More from Software