Exception PCB Purchases Ledia Direct Imager from Ucamco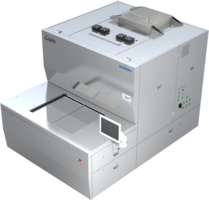 Exception PCB, one of the largest dedicated time and technology PCB manufacturers in the UK, has purchased a Ledia Direct Imager from Ucamco. To great satisfaction of all parties involved.
More specifically, the direct imager is a Ledia 6 3-head 3-wavelength type. As the name suggests, the Ledia's unique UV-LEDs light source combines three different wavelengths simultaneously. The wavelength ranges from 350nm to 440nm to diffuse the energy optimally throughout the resist or solder mask. The user can tune each wavelength's power individually for optimal results on or each material. The result is high throughput and unrivalled quality – 50µm solder mask dams without undercut.
"The investment was part of our strategy to strengthen our advanced technical capabilities and to respond to the demands of our customers with faster quick turnaround (QTA) services", Kamal Berberi explains. Exception PCB's Operations Director lists his criteria in the search for a new direct imager: "Ledia 6 responds perfectly to our technical roadmap. It offers great capability on small fine lines and gaps, is highly accurate at solder mask registrations, and all this comes at a competitive price." When asked about Exception's early experiences with their Ledia, Berberi smiles broadly. "The transition from film to filmless solder mask was very smooth with Ledia. After two months, we have not encountered any issues whatsoever with our Ledia 6. We are now able to offer a quicker service to our customers, with absolutely perfect solder mask registration."
The Ledia was purchased through ADEON Technologies from The Netherlands who are the Ucamco agents. André Bodegom comments: "We have a relationship with Exception PCB since 1993 as their supplier and service partner for various types of equipment. The relationship is based on providing the service that fits with Exception PCB's requirements and we are truly proud to have been recognized as their Direct Imaging Supplier also, showing further growth even after all these years of working together. We have experienced from the technical staff at Exception PCB that they are very happy with the way the machine was installed, the training, the results and the services provided by Ucamco. The entire project fulfils us with pride."
The same feeling is present at Ucamco, where Imaging Product Group Director Michel Van den heuvel is responsible for the hardware department. "The investment Exception PCB has done, is a great example of a company looking to optimize its services in an endeavor of continuing to boost performance", he comments. "After the installation of the Ledia 6, we remain standby to provide technical and maintenance services. If the need should arise, we can be quickly on-site, thanks to our local network of highly skilled engineers and our local spare parts stock. Our Ledia's uptime is unbeatable. We are confident Exception PCB will enjoy the benefits of their Ledia for a very long time."
About Ucamco
Ucamco NV is the market leader in PCB CAM and Pre-CAM software, laser photoplotters and direct imaging systems, with a global network of sales and support centers. Headquartered in Ghent, Belgium, Ucamco has over 35 years of ongoing experience in developing and supporting leading-edge photoplotters and front-end tooling solutions for the global PCB industry. Key to this success is the company's uncompromising pursuit of engineering excellence in all its products. Ucamco also owns the IP rights on the Gerber File Format through its acquisition of Gerber Systems Corp. (1998).
About Exception PCB
Exception PCB is a UK time critical and technology driven printed circuit board (PCB) manufacturer. Specialising in quick-turn, standard multi-layer, flex, flex-rigid and High Density Interconnection (HDI) solutions. Offering a global service to over 32 different countries supplying to a wide range of industries including aerospace, medical, defence and automotive. 
Our technical and production skills and experience combined with fast turnaround capability have made Exception PCB the ideal partner of choice for customers requiring prototype, New Product Introduction (NPI) and low to medium volumes with an offshore parent company for high volumes.
For further information, please contact:
Ucamco NV
Thomas Dewitte
Marketing & Communications Manager
thomas.dewitte@ucamco.com
Ucamco NV
Michel Van den heuvel
Imaging Product Group Director
michel.vandenheuvel@ucamco.com
ADEON Technologies B.V.
André Bodegom
Managing Director
andre@adeon.nl
Exception PCB Ltd
Kamal Berberi
Operations Director
kamal.berberi@Exceptionpcb.com
More from Cleaning Products & Equipment