Evaluation Board enables development in extreme environments.
Press Release Summary: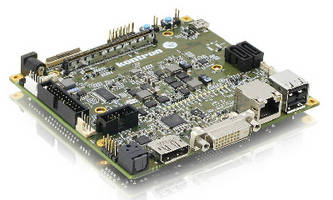 Validated for use in extended temperature range of -40 to +85°C, COM Express® Reference Carrier-i Type 10 can host all COM Express® mini COMs with Pin-out Type 10. Board features LVDS, DisplayPort and DVI, CAN Bus, and COM ports as well as Intel® HD Audio Codec with optical and electric SPDIF connections for multimedia applications. For expansion, carrierboard offers 2 Mini PCIe extension slots with USB and SIM card support. LAN connection takes place via RJ45 plug for 10/100/1000 Mbit networks.
---
Original Press Release:

Kontron COM Express® Reference Carrier-i Type 10 for COM Express® mini Computer-on-Modules



First reference and evaluation board for the extended temperature range enables simple upgrades and development of scalable applications in extreme environments

Eching, Germany, - Today Kontron announced the COM Express® Reference Carrier-i Type 10 for COM Express® mini Computer-on-Modules (COMs) with pin-out Type 10. It is Kontron's first reference and evaluation board validated for the use in the extended temperature range of -40 °C to +85 °C, making it the ideal platform either for direct deployment in, or for carrying out development of, rugged applications in extreme environments. It can host all COM Express® mini COMs with Pin-out Type 10, such as the rugged Kontron nanoETXexpress-TT, that also supports use at the industrial temperature range by-design. In addition to COM Express® Type 1 pin-out based designs, the Kontron Reference Carrier-i Type10 features new digital video interfaces such as DisplayPort and DVI, CAN Bus and COM ports. Developers and OEMs will now have more I/O flexibility for developing scalable and ultra-compact applications on a 120x120mm Nano-ITX footprint.

The Kontron COM Express® Reference Carrier-i Type10 follows the path of the popular Kontron COM Express® HMI carrierboard (120 mm x 70 mm) for pin-out Type 1 based COM® Express mini COMs. On its compact footprint, the Kontron Reference Carrier-i Type10, besides LVDS, also accommodates dedicated interfaces for DisplayPort and DVI. For the first time, this allows the development of innovative dual-display appliances with two digital displays in the industrial temperature environment. OEMs can use the Kontron Reference Carrier-i Type 10 directly off the shelf in their applications or as an evaluation platform for developing extremely robust applications for market segments like automation, transportation, outdoor digital signage and medical. OEMs can drastically improve the quality and time-to-market of their COM Express® mini form factor based designs as the Kontron COM Express® Reference Carrier-i Type10 can be used for thermal test runs under real life conditions, even when the application-specific carrierboard is still being developed.

The Kontron Reference Carrier-i Type 10 in detail

The Kontron COM Express® Reference Carrier-i Type 10 is suitable for all COM Express® Type 10-compliant mini COMs and carries all of the interfaces defined for the COM Express® pin-out Type 10. In addition to the availability of LVDS, developers will also enjoy the benefits of the DisplayPort and DVI interfaces that are directly accessible on the carrierboard. This reference carrierboard design offers remarkable flexibility when selecting the type of panel to be deployed. The carrierboard also integrates an Intel® HD Audio Codec with optical and electric SPDIF connections for multimedia applications. Data memory can be hooked up via the two SATA standard connectors. For application-specific expansion, the carrierboard offers two Mini PCI Express extension slots with USB and SIM card support. This makes developing applications that are connected via GSM, UMTS or future LTE, a simple task. A total of seven USB ports are available, including port 7 as a USB client. That is especially important for the design of mobile applications that read data from other devices via the USB interface. Furthermore, the COM and CAN Bus interfaces, which have also been newly defined, are supported by the carrierboard. LAN connection takes place via a RJ45 plug for 10/100/1000 Mbit networks. Further I/O features are an SD card slot and a feature connector with several options e.g. the system management bus. The power supply can also fall within a wide range of 5.5 to 20 VDC.

The Kontron COM Express® Reference Carrier-i Type 10 is available now. A COM Express® pin-out Type 10 starter kit including the COM Express® Reference Carrier-i Type 10 also is under development.

For more information on the Kontron COM Express® Reference Carrier-i Type 10, please visit: http://www.kontron.com/products/computeronmodules/com+express/com+express+mini/starterkits+and+evaluation+boards/com+express+reference+carrieri+type+10.html

For more information on Computer-on-Modules please visit:
www.kontron.com/comexpress

To download the whitepaper on COM Express® COM.0 Rev.2.0 Type 10 Interface in comparison to Type 1 interface: http://www.kontron.com/_etc/scripts/application/getcollateral.php?file=whitepaper_comexpresscom.0rev.2.0_en.pdf

To download the whitepaper on extended temperature ranges: http://kontron.com/_etc/scripts/download/getdownload.php?downloadId=MTAzNDg