Ethernet Switch provides real-time access to field level.
Press Release Summary: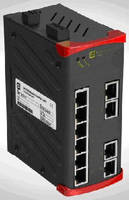 Using technique based on switching technology that does not alter Ethernet message and complies with IEEE 802.3, Automation IT creates Ethernet communications platform for applications in convergent industrial network. High-priority automation messages generated by industrial automation profiles, which use standard Ethernet overtake messages that are not relevant to automation systems, ensure messages are delivered in real-time.
---
Original Press Release:

Automation IT: New Switching Technology Provides Access to the Field Level



The goal of Automation IT is to create an Ethernet communications platform for the full range of applications in a convergent industrial network. The HARTING Technology Group is integrating Ethernet automation protocols into the Automation IT communications platform. The company will be presenting revolutionary switching technology at SPS/IPC/DRIVES 2008 in Nuremberg The new technology brings standard Ethernet to the field level. This will enable time-critical automation protocols running on Ethernet to meet the need for real time performance and determinism.

The technique is based on new switching technology which does not alter the Ethernet message and which complies with IEEE 802.3. High-priority automation messages generated by industrial automation profiles which use standard Ethernet overtake messages which are not relevant to the automation systems. This technology is built into the switches and it guarantee that the messages are delivered in time. It can be used with all IT and automation applications. Multi-port switches support extended line topologies and star topologies, giving users the freedom to choose the best topology for their application.

By extending the concept of the Automation IT platform down to the field level, HARTING will have a significant influence on the breakthrough of Ethernet in industrial applications

Contact:
HARTING KGaA
Anne Bentfeld
General Manager Communication and Public Relations
Marienwerderstr. 3
32339 Espelkamp
Fon: +49 57 72 47-244
Fax: +49 57 72 47-400
anne.bentfeld@HARTING.com
More information: HARTING.com