Ethernet Switch facilitates network expansion.
Press Release Summary: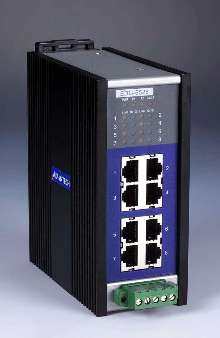 Featuring eight 10/100 Mbps Ethernet ports, DIN rail mount Model EDG-6528 operates from 32-158°F. Flexible screw terminals ensure that power lines are solidly fixed, and secondary power input takes over if primary input fails. With 3,000 Vdc surge protection and voltage range of 12-48 Vdc, unit can handle voltage fluctuations. Switch controller automatically senses transmission speeds, and all Ethernet ports have memory buffers that support store-and-forward mechanism.
---
Original Press Release:

Advantech Releases New Industrial-Grade Ethernet Switch


EDG-6528 allows fast and cost-effective expansion of networks

Cincinnati, Ohio (Jan. 18, 2005) - Advantech Corporation, Industrial Automation Group is proud to release a new industrial-grade Ethernet switch: the EDG-6528. The EDG-6528 provides fast and cost-effective expansion of industrial Ethernet networks with eight 10/100 Mbps Ethernet ports. The EDG-6528 is suitable for critical applications in environments with extreme temperatures. Boasting support for a wide voltage range, flexible screw terminal design, redundant power supply, surge protection and DIN-rail mounting, EDG products are the reliable choice for industrial Ethernet networks.

An important feature for industrial switches is protection of the power inputs. Several features protect the power inputs of the switches. Both are designed with flexible screw terminals to ensure that power lines are solidly fixed, and won't be accidentally pulled out. There is also a secondary power input that will automatically take over if the primary input fails. Unregulated voltages are no problem with 3,000 VDC surge protection, and a wide voltage range from 12 to 48 V DC is accepted to deal with unpredictable voltage fluctuations.

Designed with industrial networks in mind, EDG models are easily mounted on DIN rails or on panels, and have a compact design to fit into small control cabinets. With an operating temperature range of 0 to 70° C (32 ~ 158° F), the EDG-6528 is suitable for most industrial applications.

For more reliable communication, the EDG-6528 is designed with a switch controller that can automatically sense transmission speeds (10/100 Mbps), and all Ethernet ports have memory buffers that support the "store-and-forward" mechanism. The RJ-45 interface is also auto-detected so that MDI or MDIX can be auto-selected, and a crossover cable is not necessary.

The EDG-6528 is expected to be used in the same areas as its predecessors in the EDG series. These areas have been semiconductor factories, inventory control environments, assembly lines and other areas where network reliability is critical.

The EDG series has been developed to meet different requirements for Ethernet networks, offering everything from compact 5-port Ethernet switches for small industrial networks, to rear-wired 16-port Ethernet to serial converters for telecom applications.

See the whole series at: http://www.advantech.com.tw/products/sub_category.asp?Category_ID=1-KM5V2&PD=ICOM

This product is available for purchase directly from the manufacturer at eAutomationPro.com and from Advantech's network of North American distributors. For more information or to locate an Advantech distributor, visit eAutomationPro.com.

Advantech Corporation, Industrial Automation Group - Founded in 1983, the Industrial Automation Group of Advantech Corporation is the only complete PC-based Industrial Automation Solution Manufacturer offering products such as Industrial PCs, Workstations, Panel PCs, Flat Panel Monitors, Heavy Environmental PCs, Customized PCs, Single Board Computers, Data Acquisition & Control Devices and Web-enabled products for a wide array of industries. Drawing on the talents of more than 1,800 people, Advantech operates an extensive sales and marketing network in 16 countries and 35 major cities to deliver fast time-to-market services to our worldwide customers. Today Advantech offers over 700 products and solutions, adding 30 new products each year. US operations for the Industrial Automation Group are based in Cincinnati, OH (877-294-8989). Address: 1320 Kemper Meadow Drive, Suite 500, Cincinnati, Ohio 45240. Web: advantech.com/eAutomation. Email: info@advantech.com

Brandon Rhoten
Advantech Corporation, Industrial Automation Group
phone: (513) 742-8895 x333
fax: (513) 742-0554
web: eAutomationPro.com

More from Optics & Photonics