Ethernet DC Input Modules suit remote I/O functions.
Press Release Summary: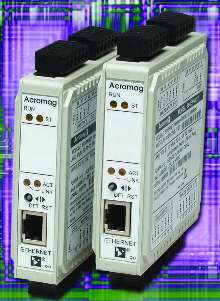 BusWorks® 961EN and 962EN directly interface 6 differential DC voltage or DC current signals from remote sites to Ethernet Modbus/TCP 10/100 network. Embedded web pages allow configuration via web browser, and automatic negotiation arbitrates 10/100 Mbps and full/half-duplex communication. Measuring 1 in. wide, DIN-rail mounted products support up to 10 sockets and include watchdog timers, self-diagnostic capabilities, and internal microcontroller.
---
Original Press Release:

New Ethernet DC Input Modules are Ideal for Remote I/O Functions at Distributed Sites with Low Point Counts


This addition to Acromag's BusWorks® Series directly interfaces differential voltage or current signals from remote sites to a Modbus/TCP network without expensive investments for intelligent controllers.

Wixom, MI: Acromag's new BusWorks® 961EN and 962EN Input Modules interface six differential DC voltage or DC current signals directly to an Ethernet Modbus/TCP 10/100 network. These independent I/O devices do not require expensive companion products, such as intelligent controllers and backplanes for PLCs or modular I/O systems, to deliver a more compact and cost-effective solution with very low startup costs. Setup is also faster and easier with embedded web pages allowing configuration using any standard web browser. No other software is required. Priced at only $500 for a six-input unit, they are very economical for applications that need to monitor a small quantity of sensors or devices per site. Each module is only an inch wide with the highest density footprint available for compact mounting on DIN-rails. Power requirements are also very flexible, supporting standard 15-36V DC power sources instead of proprietary 5V supplies.

The 961EN unit accepts 0-1mA, 0-20mA, or 4-20mA signals. It can also measure 0-20A AC using the optional external AC current sensor. The 962EN model has eight user-selectable input range options to take in bipolar signals from ±78mV to ±10V DC. Differential inputs, compared to single-ended inputs, are less susceptible to noise errors and offer greater flexibility for placement of the I/O modules anywhere in the control loop. Three-way 1500V AC isolation between the input, network and power circuits protects against surges and ground loops.

The I/O modules provide an isolated Modbus/TCP 10Base-T/100Base-TX network interface. Each module supports up to 10 sockets allowing communication with multiple masters. Automatic negotiation arbitrates 10/100 Mbps and full/half-duplex communication. Built-in watchdog timers monitor communication problems while self-diagnostic capabilities simplify maintenance and troubleshooting. A failsafe mode ensures outputs are sent to a safe state if a failure occurs.

Many other features ensure dependable operation. An internal microcontroller has integrated non-volatile memory for reliable storage of configuration parameters and can be reprogrammed repeatedly. And to visually confirm proper operation, LEDs indicate power, network activity, and individual channel status. The units are pending CE approvals and UL/cUL Class I Division 2 listing.

Acromag, a multimillion dollar international corporation, has been manufacturing and developing measurement and control products for more than 45 years. They offer a complete line of industrial I/O products including process instruments, signal conditioning equipment, data acquisition boards, distributed I/O systems, and communication devices.

For more information about Acromag products, call the Inside Sales Department or Marketing Communications at (248) 624-1541, (800) 881-0268, FAX (248) 624-9234, or write Acromag, Inc. at P.O. Box 437, Wixom, MI 48393-7037 USA. Information is also available on the Acromag web site at www.acromag.com.

BusWorks is a trademark of Acromag, Inc. All other trademarks are the property of their respective owners.