ESD Training Paddles demonstrate electrostatic principles.
Press Release Summary: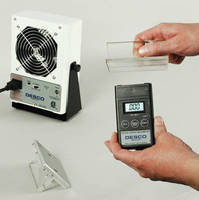 Portable 06850 ESD Training Paddles can be used for demonstrating several electrostatic principles: static electric fields, polarity, field suppression, neutralization, field induction, and field induced discharges. Able to generate static electric field charge of several kilovolts, paddle kit consists of one insulative plate and one conductive plate. Both are isolated with insulative handles and feature 3 x 4 in. surface (aluminum and acrylic).
---
Original Press Release:

Desco Launches ESD Training Paddles



Chino, CA – Desco ESD Training Paddles are ideal for demonstrating several electrostatic principles.  Among these are:



Static Electric Fields

Polarity

Field Suppression

Neutralization

Field Induction

Field Induced Discharges



These paddles are portable and can easily generate a static electric field charge of several kilovolts.  The paddle kit consists of one insulative plate and one conductive plate.  Both plates are isolated with insulative handles



06850 ESD Training Paddles



About Desco: Desco manufactures ESD control products used in the electronics production industry.



Desco has six manufacturing locations in the USA. Products made by Desco include wrist straps, foot grounders, work surface mats, shielding bags, floor finish, floor mats, ionization, smocks, continuous monitors and ESD audit equipment. Desco's products are available through distributors, resellers, and direct. A network of manufacturer representatives offers sales and technical support in most US states, Mexico, and Canada.



For additional information email Service@Desco.com or visit Desco.com



Contact: Alyssa Smith

781-821-8370

More from Software