ERNI Electronics Expands Family of M8/M12 Products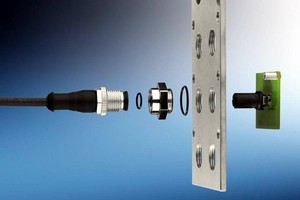 ADELBERG, GERMANY - November 27, 2007 - ERNI Electronics is expanding its M8/M12 family of products with a comprehensive selection of accessories, ranging from ready-assembled cordsets, distributors and adapters to components using quick-connect terminal technology.

ERNI, the pioneer of M12 SMT connectors, has added cable systems for M8/M12 round connectors to its range of PCB products. These are produced in a variety of modules, pin configurations, cable lengths and cable qualities for the most cost-effective and optimised automation solutions.

As a completion to the product portfolio ERNI Electronics offers cable assemblies for the connection of sensors/ actuators or other automation systems devices such as I/O distribution boxes. The standard product range covers pre-assembled, over-moulded circular connectors of sizes M8 and M12 either as interconnection of two circular connectors or as a cord set having an open end of line. In addition, the portfolio comprises field-attachable connectors for tool-less cable termination, T-coupler, panel feed-throughs and adapter for quick and cost-efficient connection in the field.

ERNI extends the variety with different cable qualities that meet the most versatile industrial requirements and therefore are applicable for a wide range of use. PVC as a competitive and economic solution or PUR (UL/CSA approved), halogen-free and UV resistant, for highly demanding applications in drag chains and harsh environments - where operational reliability is crucial. Innovative product features like the self-securing screw locking guarantee vibration-proof and secure connection. The coupling nut additionally combines a knurled surface with a spanner flat suitable for standard wrenches. Different configurations, designs and codings are available from stock. All parts meet IP67 requirements (IEC 60529) to ensure protection against dust and water immersion. ERNI's pre-assembled cable assemblies use standard-wise two cable qualities in five different lengths. Further options are possible on request.

ERNI Electronics's new M8/M12 cable systems are available immediately. For pricing, please contact ERNI Electronics (www.erni.com), or your local distributor. A new catalogue is available for download at: www.erni.com/DB/PDF/M8M12/ERNI-M8M12-e.pdf.

About ERNI Electronics

ERNI Electronics is a leading global manufacturer and worldwide supplier of a broad line of interconnects for the telecommunications, data communications, computer, industrial and medical markets. ERNI has manufacturing operations in Europe as well as sales offices in over 40 countries. ERNI products are also marketed via a worldwide network of representatives and leading distributors. Further information is available at www.erni.com.

More from Construction Equipment and Supplies