Ericsson PIM4710PD feature I2C/PMBus interface for energy-monitoring functionalities.
Press Release Summary: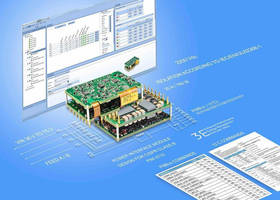 Offering high current handling of 20A and power capability of 780W at the lower end of its input-voltage range with the capability to handle up to 1080W with a 54V input, Ericsson PIM4710PD is suited for server and storage systems employing either distributed power or intermediate bus voltage architectures. 2.28 x 1.45 x 0.84in (57.9 x 36.8 x 21.33mm) in size, PIM4710PD is optimized to simplify design in blade server applications based on ATCA and PICMG 3.7 systems.
---
Original Press Release:
Ericson Raises the Bar with high-current 740w power Interface Module for ACTA Applications
• Quarter-brick power interface module (PIM) converter targets high-power Advanced Telecom Computing Architecture (ATCA) server applications

• Feature-packed ultra-high-efficiency module delivers 15A output current at 82°C with 1.5m/s (300 LFM) airflow

• Low-EMI design meets CISPR Class B with minimal external components

• Extensive range of energy monitoring functionalities via I2C or PMBus

Ericsson Power Modules today announced the PIM4710PD, an extension of the popular 3E* Power Interface Module (PIM) family and an even higher power version than its recently announced family member – the 600W PIM4610PD. The new module offers high current handling of 20A and increased power capability of 780W at the lower end of its input-voltage range with the capability to handle up to 1080W with a 54V input.

Compliant with the industry-standard quarter-brick footprint – measuring 2.28 x 1.45 x 0.84in (57.9 x 36.8 x 21.33mm) – the module has been optimized to simplify design in blade server applications based on ATCA and PICMG 3.7 systems. The PIM4710PD is also highly suited to server and storage systems in any industrial, telecom and data communications application that employs either distributed power or intermediate bus voltage architectures.

The PIM4710PD integrates innovative low-EMI design techniques to ensure that external filtering is kept to an absolute minimum, thereby meeting the CISPR Class B EMC standards required for deployment in Information and Communications Technology systems. The module also offers excellent ripple and noise characteristics and a simplified circuit design that delivers reduced component count and system costs.

Operating over an input range of 36V to 75V, the module also offers industry-leading high-power performance delivering a peak of 1080W with a 54V input, 960W at 48V, and 780W at 39V. The PIM also delivers industry-leading efficiency of up to 98.8% at 780W for the main unit, which results in reduced energy and cooling costs; operating at a typical 15 A output current at 82°C, the module requires airflow of only 1.5m/s (300 LFM).

Martin Hägerdal, Head of Ericsson Power Modules, commented: "The PIM4710PD meets the demand for leading-edge and high-power 800W ATCA-based systems, especially in applications where there is minimal airflow. The world-class efficiency and high-power handling of this new module, in conjunction with its advanced digital capabilities, will deliver significant energy and cost savings to power system architects developing advanced blade server applications."

Like the PIM4610PD, the new PIM offers built-in digital monitoring and an extensive range of energy-monitoring functionalities via its I2C/PMBus interface. The module also offers integrated hot-swap functionality and hold-up charge and discharge management. The inputs also include dual power feeds with OR'ing functionality and 'enable' signaling.

Protection features of the module include protection against input transients, reverse polarity, over-temperature, over-current, input under-voltage and inrush current. In addition, enabling the protection of processors and other key silicon devices including FPGAs, the module can be configured to enable a well-controlled shutdown procedure. The feature enables de-assertion of the Power Good pin following input power being below the assigned level.

Further specifications include: management power output of 3.3V and up to 7A; an MTBF of 2.66 million hours, according to Telcordia SR-332 Issue 2, Method 1; and isolation of 2250Vdc, which meets the latest IEC/EN/UL62368-1 safety standard. The PIM4710PD has been built to the highest quality design and manufacturing standards, which have been employed by Ericsson for many years and deliver extremely high levels of confidence to customers.

The price of the PIM4710PD starts at $87.00 for OEM quantities.

* Enhanced Performance, Energy Management, and End-user Value are the key benefits delivered by Ericsson's range of 3E digitally controlled power modules.

FOR FURTHER INFORMATION, PLEASE CONTACT

Martin Hägerdal, VP & Head of PA Power Modules, Ericsson
Phone: +46 10 714 71 84

If printing an Internet address use Ericsson Power Modules homepage and/or phone number to our International sales office:

Europe, Middle East & Africa:
+46-10-716 96 20

Asia Pacific:
+86-21-5990 3258

Americas:
+1-972-583 6910 or +1-972-583 5254

www.ericsson.com/powermodules
More from Materials