Engineering Service develops optimal machine functionality.
Press Release Summary: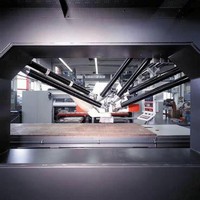 Mechatronic support service enables machine tool OEMs to design machines, from concept through completion, together with Siemens experts. In addition to supplying control and drive technology, Siemens helps develop ideas and end-user specific machine concepts tailored to OEM customers' needs. Each solution comes equipped with CNC technology. For existing machines, service focuses on interaction between mechanical components and electrical drives to improve precision and productivity.
---
Original Press Release:


Getting Machines Faster to the Market...Mechatronic Support Service from Siemens Bundles the Expertise to Create the Perfect Machine




CHICAGO, August 11, 2005 - Siemens is offering a cooperative partnership with its mechatronic support service so that machine tool OEMs can meet customer expectations. This service will be available in the United States through its R&D group in South Lebanon, Ohio.

Mechatronics support allows the OEM to design their machines together with Siemens experts-from the machine's concept all the way through to completion. Such cooperation enables machine tool builders to work very closely with Siemens as their expert and supplier of control and drives technology. Working together with the OEM's engineers, Siemens will develop innovative ideas and end-user specific machine concepts that are tailored exactly to their needs. Each solution comes equipped with state-of-the-art CNC technology and the ultimate in functionality.

The mechatronic service is also available for existing machines. In this case, Siemens will focus on the interaction between the mechanical components and the electrical drives to improve the precision and productivity of a machine.

Siemens
Machine Tool Business Unit
390 Kent Avenue
Elk Grove Village, IL 60007
Attn: Marketing/Communications

For product information and inquiries, call (800) 879-8079 ext. Sales Central or e-mail
[email protected]

Visit our home page at: www.SiemensCNC.com

Siemens AG (NYSE:SI) is one of the largest global electronics and engineering companies with reported worldwide sales of $91.5 billion in fiscal 2004. Founded more than 155 years ago, the company is a leader in the areas of Medical, Power, Automation and Control, Transportation, Information and Communications, Lighting, Building Technologies, Water Technologies and Services and Home Appliances. With its U.S. corporate headquarters in New York City, Siemens in the USA has sales of $16.6 billion and employs 70,000 people throughout all 50 states and Puerto Rico. Thirteen of Siemens' worldwide businesses are based in the United States. With its global headquarters in Munich, Siemens AG and its subsidiaries employ 440,000 people in 190 countries. For more information on Siemens in the United States: www.usa.siemens.com.

Siemens Energy & Automation Inc. is one of Siemens' operating companies in the U.S. Headquartered in the Atlanta suburb of Alpharetta, Ga., Siemens Energy & Automation manufactures and markets one of the world's broadest ranges of electrical and electronic products, systems and services to industrial and construction market customers.

Its technologies range from circuit protection and energy management systems to process control, industrial software and totally integrated automation solutions. The company also has expertise in systems integration, technical services and turnkey industrial systems. For more information: www.sea.siemens.com.