Engine Lathes feature electronic variable speed drive.
Press Release Summary: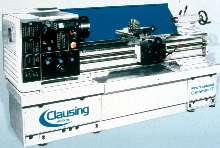 The Professional Lathes are available in range of gap bed models, including 13 in. swing with 25 in. center, 15 in. swing with 50 in. center, 18 in. swing with 60 and 80 in. centers, and 21 in. swing with 60, 80, and 120 in. centers. Machines have extra-wide cast iron hardened and ground bedways, with triangular webs for chip removal. A 10 hp spindle drive motor drives 13 and 15 in. swing models, while 15 hp motor drives 18 and 21 in. models.
---
Original Press Release:

New from Clausing 'The Professional" Low Cost Engine Lathes


The new Clausing/Colchester 'The Professional' setting the standard for engine lathe performance, with an electronic variable speed drive. These heavyweight machines are designed and manufactured for precision and reliability at very affordable price for shops that need a high quality engine lathe.

'The Professional' is available in a full range of gap bed models, 13" swing with 25" center, 15" swing with 50" center, 18" swing with 60" and 80" centers and 21" swing with 60", 80", and 120" centers. The machines have extra-wide cast iron hardened and ground bedways, with triangular webs for easy chip removal, mounted to a heavy-duty cast iron base engineered to absorb vibration and ensure smooth, accurate operation.

'The Professional' is equipped with a state-of-the-art AC variable speed spindle drive and three headstock gear ranges. A powerful 10 hp spindle drive motor drives the 13" and 15" swing models, (0-3250 rpm spindle speed range on the 13" model and 14-2500 rpm spindle speed range on the 15" model), and a 15 hp spindle drive motor drives the 18" and 21 " swing models, (20-2000 rpm spindle speed range on 18" models and 18-1800 rpm spindle speed range on 21" models). Anti-friction carriage ways for minimal bedwear and longer machine life, full rear splash guard, heavy-duty tailstock, covered leadscrew to protect leadscrew from chip and operator safety, leadscrew reversing box for faster thread cutting and allows reversal of the leadscrew with the spindle running, and a large capacity wheeled chip bin for easy chip disposal are all standard features.

Add productive and quality with a optional 2 axis DRO with constant surface speed.

Clausing/Colchester is a world leader in lathe manufacturing and is the name to trust in turning. For more details and complete specifications on the "The Professional" Low Cost Engine Lathe, contact Clausing Industrial Inc., 1819 North Pitcher Street, Kalamazoo, Michigan 49007; Phone 269-345-7155; Fax 269-345-5945;
Web Site clausing-industrial.com; E-mail info@clausing-industrial.com.

Company Contact
Joe Felicijan
Vice President, Sales

More from HVAC