Enfield Technologies' New Pneumatics System Controller Includes Onboard Valve Driver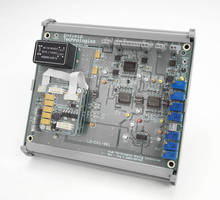 With the LS-C41 pneumatics system controller, Enfield Technologies now offers control systems engineers a high-speed, high-accuracy analog PID controller, paired with an efficient PWM-based valve driver. This hybrid controller/driver maximizes the performance of the company's LS and M2 driverless valves.

The LS-C41 features multiple PID and feed forward options and "Nested Loop" control architecture. Its adjustable gain, deadband and dither frequency allow the user full control of the application. Enfield Technologies designed the LS-C41 for control of position, motion, flow, force or pressure in high-performance pneumatic systems such as those found in laboratory test and measurement, industrial automation, animatronics and medical equipment/devices.

Complete technical information on the new LS-C41 pneumatics system controller may be obtained by contacting Enfield Technologies by phone at (800) 504-3334, by fax at (203) 286-2414 or by email at info@enfieldtech.com. Complete information on all of the company's advanced proportional control systems is also available on their Web site: www.enfieldtech.com.

More from Software