Enclosures for iPAD Air Tablets prevent damage and theft.
Press Release Summary: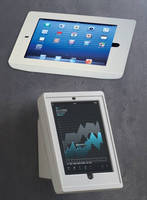 INTERFACE-TERMINAL multifunction electronic enclosure range includes iPAD Air front panels, available in matt anodized aluminum or UL 94 HB-rated ABS, that enable secure mounting to walls or desks for viewing and operating tablets in communal locations. Designed to fit Type I ABS (UL 94 HB) base section in modular INTERFACE-TERMINAL range, these customizable, tamperproof, IP40-rated housings can incline 20° and also be configured as handheld units.
---
Original Press Release:

OKW's Standard Enclosures for Housing iPAD Air Tablets for Industrial or Commercial Applications



OKW's new front panels enable iPAD Air tablets to be securely mounted to help prevent damage or theft



OKW has added two new iPAD Air front panels to its INTERFACE-TERMINAL multifunction electronic enclosures range – enabling the tablets to be securely mounted to walls or desks, or in a robust handheld enclosure to help prevent damage or even theft.



They provide a tamperproof, IP 40 rated housing and mounting solution for the viewing and operation of iPADs in communal locations such as museums, offices, factories, public buildings, laboratories and healthcare facilities.



Both panels have been designed to fit the Type I ABS (UL 94 HB) base section in the modular INTERFACE-TERMINAL range.



This offers designers the choice of either mounting the iPAD flat on a wall or desk or inclining it at an angle of 20° for more comfortable viewing and operation. Robust handheld units can also be configured.



The front panels are available in matt anodised aluminum or ABS. The plastic panel is rated UL 94 HB. Its standard color is Off-white (RAL 9002) but custom colors can be specified. Both panels are RoHS and REACH compliant. They are supplied with two attachment strips and assembly kits.



INTERFACE-TERMINAL is one of OKW's most versatile ranges. Its innovative modular format enables designers to specify high quality, ergonomic standard enclosures that can be used as handheld units then transferred to vehicle-based mounting points or clipped into desk stations. They can also be wall mounted.



All OKW enclosures can be fully customized with CNC milling and drilling, printing or engraving of legends and logos, bespoke colors, special finishes and assembly of components.



For further details about the new INTERFACE-TERMINAL iPAD Air front panels and other OKW enclosure solutions, visit the website at: www.okwenclosures.com



Direct website product links: INTERFACE-TERMINAL Aluminum iPAD Air Panel http://www.okwenclosures.com/en/Interface-Terminal/B4146126.htm

INTERFACE-TERMINAL ABS iPAD Air Panel http://www.okwenclosures.com/en/Interface-Terminal/B4046427.htm



Datasheet PDF link: http://www.okwenclosures.com/en/Interface-Terminal/INTERFACE_TERMINAL_inch.pdf (paste into browser)



Contact: Sean Bailey

Email: seanb@okwenclosures.com

More from Architectural & Civil Engineering Products