Enclosure protects large format LCD and plasma displays.
Press Release Summary: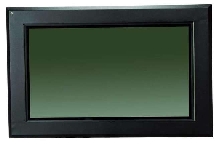 Designed for indoor and outdoor use, Viewstation is available in 3 sizes to protect 42, 50, and 60 in. monitors against theft, vandalism, and elements. Enclosure, sealed and lockable, offers secure pole, wall, and ceiling mounting options. Equipped with filter fan system that helps keep monitor cool and dust free, unit comes in black and features gas strut assisted door, spring hinge door removal, and sealed splint panel cable ingress and egress.
---
Original Press Release:

ITSENCLOSURES Introduces Viewstation for LCD and Plasma Monitors


First and only enclosure available to protect large format plasma and LCD displays

MT. PLEASANT, Pa. (June 22, 2005) - ITSENCLOSURES, the expert in electronic display and computer protection equipment, today unveiled the new Viewstation, a large format display enclosure.

Viewstation is the first and only enclosure on the market designed specifically to protect standard size, large format plasma or LCD displays. With the Viewstation, LCD and plasma displays are protected indoors or outdoors at airports, hotels, stadiums, arenas, shopping malls, universities and convention centers.

"We're seeing more and more plasma and LCD monitors being used in various locations," said John Spangler, ITSENCLOSURES president. "Left unprotected, this equipment is subject to theft, vandalism, the elements and curious 'button pushers.' We saw a need, so we worked to develop an enclosure specifically for large format displays that would protect them from these threats and help to extend their useful life."

The Viewstation, available in three sizes to protect 42", 50" or 60" monitors, offers three secure mounting options: pole, wall or ceiling mount solutions. Viewstation is sealed, lockable and secure and can be used indoors or outdoors. The large format display enclosure comes in black and also is equipped with a filter fan system that helps keep the monitor cool and dust free, and an infrared sensor which allows for simple and remote I/R distribution control. Other features include a gas strut assisted door, a spring hinge door removal and sealed splint panel cable ingress and egress. Easily installed by two people, the Viewstation can be maintained by just one person.

More information on ITSENCLOSURES' complete line of enclosures is available on the company's web site (www.itsenclosures.com) and in its current product catalog. To order a catalog, call 1-800-423-9911, or visit the web site.

About ITSENCLOSURES
Located 36 miles southeast of Pittsburgh in Mt. Pleasant, Pa., ITSENCLOSURES is the expert in electronic display and computer protection equipment. Its NEMA-rated enclosures are ideal for any and all environments where dust, dirt and exposure to liquids or corrosives threaten the performance of electronic equipment. ITSENCLOSURES products allow companies to safely use any computer or monitor in the harshest operating environments. ITSENCLOSURES also offers a complete line of thermal management solutions. The company has been helping companies protect their technology investments and realize the maximum life cycle of their equipment since its founding in 1985.

More from Electronic Components & Devices