Enclosure Latch provides tool-secured operation.
Press Release Summary: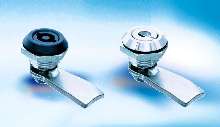 Quad Panel Latch offers ¼-turn operation and internal and external sealing to meet NEMA 4/IP 66 requirements. Spring-loaded pawl keeps constant force on frame when latched, to resist vibration and allow for grip tolerances. Pawl-position indicator on driver allows users to see status of latch at a glance. Eight tool-operated headstyles provide methods for OEMs to meet restricted or authorized personnel access requirements.
---
Original Press Release:
New Southco Latch for Enclosure Applications Offers Robust, Tool Secured Operation and Sealing to Meet Nema 4/IP 66 Requirements

Southco Inc, (CONCORDVILLE, PA) announces it's new Quad Panel Latch, designed for today's industrial applications. The robust latches offer quick quarter-turn operation, eight tool-secured headstyles, and internal and external sealing to meet NEMA 4/IP 66 requirements.

"The new quad panel latches feature a spring-loaded pawl that keeps constant force on the frame when latched to resist vibration and allow for grip tolerances. This is very important in enclosure applications where manufacturing tolerances can be an issue. The spring loading allows for reduced precision in the customer's processes while still achieving excellent latching performance," says Southco Product Manager Steve Spatig.

Other features include a pawl-position indicator on the driver, allowing users to see at a glance the status of the latch. Eight tool-operated headstyles provide easy methods for OEMs to meet restricted or authorized personnel access requirements. The latch is available in numerous pawl styles to meet many grip ranges.

The new quad panel latch is shipped completely assembled, including a sealing washer, which is required to achieve NEMA 4/IP66 sealing. The latches are available in two finish options, black powder-coat and bright chrome finish.

These new quad panel latches are designed for numerous applications ranging from industrial machinery to telecommunications switchgear; electronic enclosures; truck, bus and RV/caravan applications; Rail equipment, and off-highway/construction equipment. "They are ready solutions for manufacturers who need a strong, low-cost latch with a good-looking, modern design," says Spatig.

Complete product literature, technical data sheets, and downloadable CAD drawings are all available on Southco's website, www.southco.com. Southco's on-line Product Configurator is a fast, convenient way to configure the Quad Panel Latch that best suits your application. Use the on-line sample request form to order samples to test in a prototype.

Southco is a leading global provider of engineered access solutions, including latches, captive fasteners, hinges, handles and other accessories for applications in the Marine, Networking, Telecommunications, Computer, Automotive, Mass Transit, Off-highway /Construction, RV/Caravan, Industrial Machinery and HVACR industries.

Southco is strongly focused on customized engineering support for its key customers. The company aims to be a virtual engineering center for its customers' engineered-access solutions and is committed to providing outstanding quality and overall satisfaction. Southco's promise to its customers is to connect, create and innovate to come up with the best solution for every access engineering problem.

For more information about Southco's new Quad Panel Latches, visit www.southco.com or e-mail info@southco.com.

MEDIA CONTACT: Hugh Chambers/ Katrin Naefe

TEL: +44 121 4548181

Knaefe@wyatt-inter.co.uk

TECHNICAL CONTACT: Brian Sykes

bsykes@southco.com

Tel: (1) 610-361-6553

SOUTHCO CONTACT: Lucy Edwards

ledwards@southco.com

Tel: (44) 1452 715408

Katrin Naefe

Wyatt International

Tel: +44 (0) 121 454 8181

Fax: +44 (0) 121 455 9785

E-mail: knaefe@wyatt-inter.co.uk

Web Site: www.wyattinternational.com


More from Electronic Components & Devices