Emergency Vent provides pressure and vacuum relief.
Press Release Summary: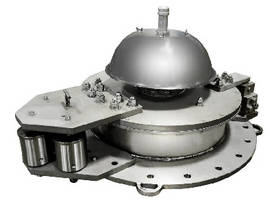 Equipped with pressure port and 5¼ in. diameter vacuum port, Model 94520 Emergency Vent and Manhole Cover with Hood for API/ANSI roof manholes provides emergency pressure venting, plus vacuum relief when tank requires outside air. Unit is not intended to meet requirements of explosion relief. Vent provides for 100% opening at set pressure with no overpressure required, and uses magnetic latch system that eliminates loading weights required by conventionally loaded vents.
---
Original Press Release:

Shand & Jurs' 94520 Emergency Vent Combination Unit with Pressure & Vacuum Relief Vent



Hillside, IL - Shand & Jurs, a leader in tank gauging and tank protection equipment, has designed a special 94520 Emergency Vent & Manhole Cover with Hood for API/ANSI roof manholes.

When additional pressure relief is required, the 94520 provides emergency pressure venting and also provides vacuum relief when the tank requires outside air. The 94520 Emergency Vent is not intended to meet requirements of explosion relief, but is designed to relieve excessive internal pressure as well as manhole access. This model provides a pressure port and a 5 1/4 diameter vacuum port. It uses a patented, magnetic latch system that provides greater flow capacities than conventional weight loaded vents on the pressure side. It also provides for 100% opening at set pressure with no overpressure required. The magnetic latching principle eliminates loading weights required by conventionally loaded vents.

This special emergency vent is suitable for high pressure applications and for the chemical industry. It is also a perfect solution for tanks with limited access points and tanks that only have enough space for one emergency vent.

About L&J Technologies

L&J Technologies companies include L&J Engineering, Shand & Jurs (S&J), GPE, Omnitrol, and Delavan. L&J is a global manufacturer of tank level gauging and tank fitting equipment, steel processing equipment, waste water control systems technology and related products. L&J is a manufacturer that prides itself on 90 plus years of supplying the industry with only the finest American Made components and equipment. Custom engineering services, reliable and innovative technology, a complete field service team, and a state of the art manufacturing facility help L&J to build productive relationships with customers, representatives and suppliers. L&J provides quality products for many industries, including Petroleum, Petrochemical, Chemical, Food, Pharmaceutical, Pipeline, Wastewater, Steel, and Water Treatment.

For more information on L&J Technologies: www.ljtechnologies.com


More from Material Processing