Embedded System targets imaging and machine vision.
Press Release Summary: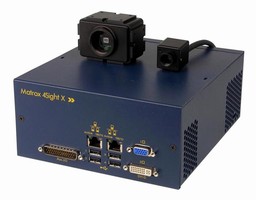 Featuring rugged construction, Matrox 4Sight X is built upon embedded Intel® 64-bit multicore architecture and is equipped with Core(TM)2 Duo or Celeron® processor. Intel® GMA x3100 2D/3D graphics engine offloads image processing. System includes dual integrated GbE ports for GigE Vision(TM) and 3 IEEE 1394 a/b ports for Industrial Instrumentation Digital Camera (IIDC). Optional frame grabbers for x4 PCIe®/32-bit PCI can acquire video from analog, digital RS-422/LVDS, and Camera Link® sources.
---
Original Press Release:

Matrox 4Sight X Marks a Decade of Embedded Systems for Imaging and Machine Vision



February 14, 2008, Dorval, QC - Matrox Imaging has launched the Matrox 4Sight X, the latest generation of embedded systems that integrate video capture, processing and display.

The rugged construction and small footprint make Matrox 4Sight X ideal for any environment. Built upon an embedded Intel® 64-bit multi-core architecture, Matrox 4Sight X is equipped with either a Core(TM)2 Duo or Celeron® processor, as well as an Intel® GMA x3100 2D/3D graphics engine to offload image processing.

For image acquisition, 4Sight X features dual integrated Gigabit Ethernet ports for GigE Vision(TM) and three IEEE 1394 a/b ports for Industrial Instrumentation Digital Camera (IIDC). Optional frame grabbers for x4 PCIe® / 32-bit PCI can acquire video from analog, digital RS-422/LVDS, and Camera Link® sources. Complementary hardware compression capability is also available. All optional hardware (for image acquisition and compression) is pre-installed and configured at the factory.

Microsoft® Windows® XP Embedded is available on the system; applications are programmed with the Matrox Imaging Library (MIL). Like hardware, software is pre-installed so developers have a simpler development and deployment process and can get their product to market sooner. Matrox 4Sight X is manufactured in-house with stringent change control so a consistent supply is available throughout its long life cycle, helping to maximize ROI.

Pricing for 4Sight X starts at $1995 US OEM (quantity 1), and will be available in Q1 2008.

About Matrox Imaging

Established in 1976, Matrox Imaging is a leading designer of PC-based hardware and software for machine vision, image analysis, medical imaging, and video surveillance. Products include frame grabbers, vision processors, imaging platforms, smart cameras, and development software. Headquartered in Montreal, Quebec, Canada, Matrox is a privately held company with offices in the United Kingdom, Ireland, Germany, and Hong Kong. For more company information, visit: matroximaging.com/about/.

Sarah Sookman
Media Relations Specialist
Matrox Imaging
1055 St-Regis Boulevard
Dorval, Quebec, H9P 2T4
Canada
Tel:514-822-6000 x2753
ssookman@matrox.com
www.matrox.com/imaging

More from Thermal & Heating Equipment