Elevated Conveyor Maximizes Production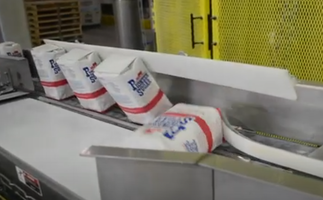 Multi-Conveyor (Winneconne, WI - www.multi-conveyor.com)  recently built this conveyor system to transport bags of sugar from three separate bag filling machines to ultimately feed a robotic tray packer.
The filled bags exit the bagging machines standing upright with the narrow edge leading. Three lanes merge into one, with a pneumatic traffic cop gate system.  Once single filed, the bags are knocked down on their face (wide edge leading) and bump turned to narrow edge leading, as they travel for the remainder of the system.
The bags then incline, transport above shop level through multiple curves, including table top and friction belt variations, then decline back to shop level. Conveyor speeds range from 70 to 140 bags per minute or 200 fpm depending on product size.
The elevated conveyor provides uninterrupted shop production below and maximizes floor space.  Fixed stainless steel guide rail brackets control product stability throughout twists, turns and elevation changes the entire length of transportation.
We asked Michigan Sugar Company Contract Engineer, Robert Hite, to sum up his experience working with Multi-Conveyor. Here's what he had to say.   (QUOTE) "We found Multi-Conveyor to be extremely professional and helpful to our sugar bagging and conveying operation. We have used them for many years in a number of projects. They have great follow-up service when we have asked questions or requested field modifications. I would suggest Multi-Conveyor be your source as well." (END QUOTE)
Special shout out to Multi-Conveyor distributor, EPS (www.engpaksol.com), for their partnership on this project. Job well done.

About Multi-Conveyor
Multi-Conveyor is a leading manufacturer of standard and custom conveyor solutions for End-Users, Integrators, Engineering firms, Automation/Robotics, AI, OEM's and Contract Packagers across multiple markets. We specialize in conveyor systems for packaging or material handling for nearly every industry, product, shape and size. Our customers report they select Multi-Conveyor for concept/design, engineering skills, quality product, best value and prompt delivery.
Multi-Conveyor excels in sanitary conveyor, easy to maintain, clean-in-place or "no tools required" belt changeover systems for nearly any industry.  We direct manufacture stainless steel and mild steel construction conveyors for table top chains, modular plastic belts, fabric belting and now custom MDR.  Our in-house electrical and engineering departments execute the controls, panels, devices, PLCs, VFDs, HMIs, safety, inspection and sensors needed to integrate our systems with multiple packaging platforms. Quick ship plastic chain and low-profile, small transfer, pre-engineered sanitary and non-sanitary belt systems are available for quick delivery.
All of these construction designs, technologies and solutions, along with over 90 conveyor videos, can be found on our website at www.multi-conveyor.com.