Elevated Conveyor Conserves Critical Floor Space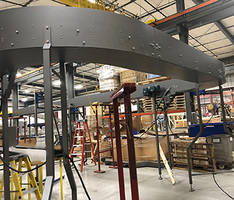 …Protecting production headroom in the process.
Multi-Conveyor (Winneconne, WI) – recently built a series of powered mild steel conveyors including a unique gravity conveyor to transport tall shaped plastic products. Products are robotically placed on a 5 feet high dual-lane conveyor where they index through a product forming process, then incline to an ultimate height of nearly 8 feet.
The product proceeds at this elevation through two 90-degree turns with over 16 feet of straight conveyance between the curves, to an end stop. (Note: Products used in this video are for demonstration purposes only.)
Enhanced support and quality construction properly secure elevated motor mounts while ensuring employee safety below. Elevated transport conveyors are commonly used to free up critical production floor space below. Up and over conveyors are often used to give operators and forklift traffic some headroom.
In this project, a pneumatic cross-pusher was implemented to gently transfer product onto a unique concept LBP-gravity slide, ideal for non-standard product contact surfaces, to easily decline for manual removal.
See even more elevated conveyance videos by visiting our website video gallery at https://www.multi-conveyor.com/multi-media-center/videos1.
About Multi-Conveyor
Multi-Conveyor is a leading manufacturer of standard and custom conveyor solutions for End-Users, Integrators, Engineering firms, Automation/Robotics, AI, OEM's and Contract Packagers across multiple markets. Our products are multiple and unique. No single conveyor product defines Multi-Conveyor. We specialize in conveyor systems for packaging or material handling for nearly every industry, product, shape and size. Our customers report they select Multi-Conveyor for concept/design, engineering skills, quality product, best value and prompt delivery.
Multi-Conveyor excels in sanitary, easy to maintain, clean-in-place or "no tools required" belt changeover systems for nearly any industry. We direct manufacture conveyors constructed of stainless or mild steel for table top chains, modular plastic belts, fabric belting and now specialized, custom MDR. Our in-house electrical and engineering departments execute the controls, panels, devices, PLCs, VFDs, HMIs, safety, inspection and sensors needed to integrate our systems with multiple packaging platforms. Quick ship plastic chain and low-profile, small transfer, pre-engineered sanitary and non-sanitary belt systems are available for quick delivery.
All of these construction designs, technologies and solutions, along with nearly 100 conveyor videos, can be found on our comprehensive website: https://www.multi-conveyor.com
Contact Info For Publication:
Multi-Conveyor LLC
P O Box 10
Winneconne, WI 54986
1-800-236-7960
info@multi-conv.com
www.multi-conveyor.com