Electronics Enclosure survives military-duty applications.
Press Release Summary: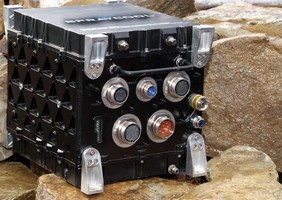 Multi-Platform Enclosure (MPE) chassis employs SprayCool® 2-phase cooling technology and allows deployment of legacy or proprietary electronics with commercial grade electronics in same unit. Accommodating electronics cards designed for air or conduction cooling with minimal modifications, enclosure features controlled operating environment that lets all electronics operate effectively under harsh conditions. Unit scales from 4-21 slots and meets/exceeds MIL-STD-810 and MIL-STD-461 requirements.
---
Original Press Release:

SprayCool® Launches Next-Generation Electronics Enclosure for Demanding Military Applications



New enclosure revolutionizes how electronics are deployed in harsh environments

LIBERTY LAKE, Wash., March 10 -- SprayCool, a recognized leader in the development of advanced thermal management solutions for the military, announced today the immediate availability of its Multi-Platform Enclosure (MPE). Targeted for use in a variety of mission critical military applications, the MPE chassis employs the company's patented two-phase cooling technology (SprayCool(R)). The product has already been selected by prime integrators Lockheed Martin and Northrop Grumman for DoD programs involving radar and image processing electronic warfare applications, and is being considered for a number of other airborne and land-based applications. The next-generation SprayCool MPE will be demonstrated at the upcoming Navy League Sea-Air-Space Exposition in Washington DC, with an on-site press conference on March 18th.

The MPE is the first in a planned series of enclosures by SprayCool that revolutionize how electronics are deployed in harsh military environments. Unprecedented in its flexibility, the MPE allows customers to deploy legacy or proprietary electronics with commercial grade electronics in the same enclosure. The MPE also offers unparalleled flexibility in accepting electronics cards designed for air or conduction cooling with minimal modifications, which translates directly into lower costs and faster development cycles for integrators and their military customers.

The MPE's controlled operating environment enables all electronics to operate effectively in the military's most demanding environments and allows integrators to deploy systems in the lightest, most compact and cost effective enclosures available today. "SprayCool's patented two-phase liquid cooling system means customers can package significantly more electronics capability into a smaller, lighter, more power efficient enclosure, and do it much more quickly. This unique capability has resulted in the award of several significant military contracts for our MPE this year," said Matt Gerber, SprayCool president and chief executive officer.

The MPE enclosure can scale from 4 slots to 21 slots and is designed to meet industry standard designs for 6U x 160mm VME-64X, VPX, VXS, cPCI and CPCIe(EXP.0) and proprietary electronics boards, and offers significantly more cooling capability per slot (above 300 Watts) than enclosures using older cooling technologies such as air or conduction cooling. The SprayCool MPE also accommodates a wide variety of customer specified I/O options. The operating environment can range from -65C to +71C, and up to 100,000 ft. altitude in unpressurized compartments. SprayCool's MPE meets or exceeds MIL-STD-810 and MIL-STD-461 requirements for harsh environments.

SprayCool Technology

SprayCool patented technology uses a fine mist of non-corrosive, non-conductive liquid, sprayed in a thin layer, which evaporates and cools electronics. The process continuously cycles within a sealed, closed loop system. In doing so, SprayCool products isolate the electronics from dirty, corrosive environments found in military and industrial applications resulting in cooler, higher performance, and more durable electronic devices.

MPE Applications

The SprayCool MPE is ideally suited for the challenges facing today's integrators and system designers that need to package more processing power into an existing or smaller space. With the broad variety of cards accepted by the MPE, system integrators no longer need to wait to deploy the latest in electronic solutions. Current applications for the MPE include image and radar processing, command and control, and EW jamming systems in unmanned aircraft (ASIP Program), helicopters, fixed wing aircraft, and ground based vehicles. The MPE base model configurable enclosure results from SprayCool's extensive experience and development of custom solutions for the military that have been tested and fielded to meet or exceed the most severe military standards for vibration, shock, EMI, sand, dust, salt fog, salt water emersion, altitude, and temperature.

Availability
The MPE enclosure is available immediately.

About SprayCool

SprayCool (formerly known as Isothermal Systems Research) is a global leader in developing electronics thermal management products and systems for DOD and Intelligence applications, using its patented two-phase cooling technology. The resulting electronics thermal management solutions uniquely provide a climate controlled environment to cool any electronics in a package that is significantly smaller, lighter and more power and cost efficient. SprayCool solutions are sourced by a variety of today's leading prime and system integrators to support the military's most demanding application needs. Founded in 1988, SprayCool is a privately held corporation headquartered in Washington State. For more information, please visit http://www.spraycool.com/

CONTACT: Marie Hartis, Director of Communications of SprayCool, +1-509-241-4518, mhartis@spraycool.com

More from Electrical Equipment & Systems